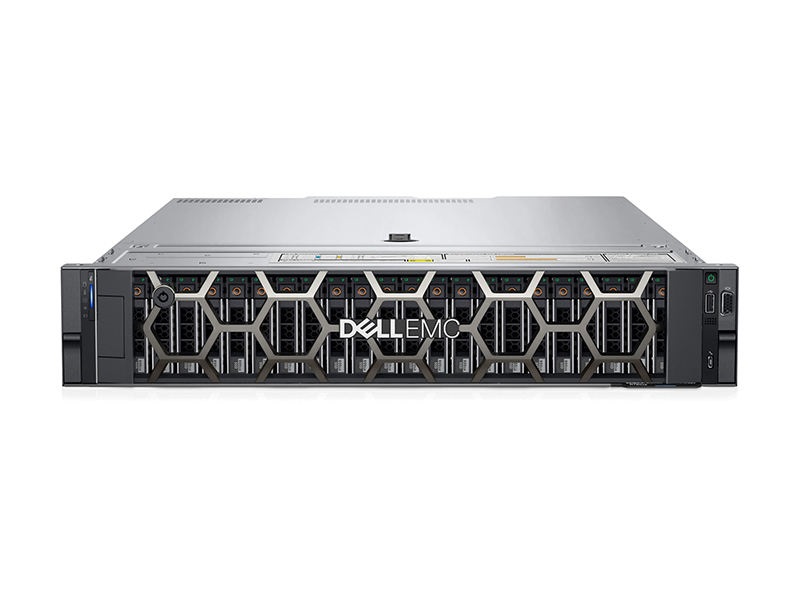 Dell PowerEdge R750xs Rack Server
The Dell R750xs servers are engineered to unique customer requirements to deliver enterprise-class performance for scale-out environments.
Feature
The Dell R750xs server is a 2U server built for a rapidly growing scale-out solution Dell R750xs servers feature 3rd Generation Intel® Xeon® Scalable processors designed for virtualization, mid-range VM density or VDI, and software-defined storage node workloads. Each CPU supports up to 32 cores, up to 16 DDR4 RDIMMs, and speeds up to 3200 MT/s; Built for fast-growing solutions with a footprint of up to 24 drives for SDS deployments; Management with iDRAC9 Enterprise, OpenManage Enterprise and plug-ins, iDRAC Direct, and Quick Sync 2.0; Full stack management integration with Microsoft, VMware, ServiceNow, Ansible and many other tools for on-premises, edge and cloud environments.
Youtube
Parameter
Processor

Up to two 3rd Generation Intel Xeon Scalable processors with up to 32 cores

Memory

• 16 DDR4 DIMM slots, supports RDIMM 1 TB max, speeds up to 3200 MT/s




• Supports registered ECC DDR4 DIMMs only

Drive Bays

Front bays:




• 0 drive bay




• Up to 8 x 3.5-inch SAS/SATA (HDD/SSD) max 128 TB




• Up to 12 x 3.5-inch SAS/SATA (HDD/SSD) max 192 TB




• Up to 8 x 2.5-inch SAS/SATA/NVMe (HDD/SSD) max 61.44 TB




• Up to 16 x 2.5-inch SAS/SATA (HDD/SSD) max 122.88 TB




• Up to 16 x 2.5-inch (SAS/SATA) + 8 x 2.5-inch (NVMe) (HDD/SSD) max 184.32 TB




Rear bays:




• Up to 2 x 2.5-inch SAS/SATA/NVMe (HDD/SSD) max 15.36 TB

Power Supplies

• 600W Platinum Mixed Mode (100-240Vac or 240Vdc) hot swap redundant




• 800W Platinum Mixed Mode (100-240Vac or 240Vdc) hot swap redundant




• 1100W Titanium Mixed Mode (100-240Vac or 240Vdc) hot swap redundant




• 1400W Platinum Mixed Mode (100-240Vac or 240Vdc) hot swap redundant




• 1100W -48Vdc hot swap redundant (CAUTION: only works with -48Vdc to -60Vdc power input)

Cooling options

Air cooling

Fans

• Standard fans/High performance Silver fans/High performance Gold fans




• Up to six hot swap fans

Dimensions

• Height – 86.8 mm (3.41 inches)




• Width – 482.0 mm (18.97 inches)




• Depth – 707.78 mm (27.85 inches) – without bezel




721.62 mm (28.4 inches) – with bezel

Form Factor

2U rack server

Embedded Management

• iDRAC9




• iDRAC Service Module




• iDRAC Direct




• Quick Sync 2 wireless module

OpenManage Software

• OpenManage Enterprise




• OpenManage Power Manager plugin




• OpenManage SupportAssist plugin




• OpenManage Update Manager plugin
| | |
| --- | --- |
| Mobility | OpenManage Mobile |
| Embedded NIC | 2 x 1 GbE LOM |
| Network Options | 1 x OCP 3.0 |
| GPU Options | Not supported |
PCIe

Up to 5 x PCIe Gen4 slots + 1 x PCIe Gen3 slots




• 3 x16 Gen4 low profile




• 2 x16 Gen4 low profile (optional)




• 1 x8 Gen3 (x4 lane) low profile

Operating System and Hypervisors

Canonical Ubuntu Server LTS




• Citrix Hypervisor




• Microsoft Windows Server with Hyper-V




• Red Hat Enterprise Linux




• SUSE Linux Ent
| | |
| --- | --- |
| OEM-ready version available | From bezel to BIOS to packaging, your servers can look and feel as if they were designed and built by you. |
Integrations and Connections

•

BMC Truesight




• Microsoft System Center




• OpenManage Integrations




• Red Hat Ansible Modules




• VMware vCenter and vRealize Operations Manager

• IBM Tivoli Netcool/OMNIbus




• IBM Tivoli Network Manager IP Edition




• Micro Focus Operations Manager




• OpenManage Connections




• Nagios Core




• Nagios XI

Ports

Front Ports




• 1 x iDRAC Direct (Micro-AB USB) port




• 1 x USB 2.0




• 1 x VGA

Rear Ports




• 1 x USB 2.0




• 1 x Serial (optional)




• 1 x USB 3.0




• 2 x Ethernet




• 1 x VGA