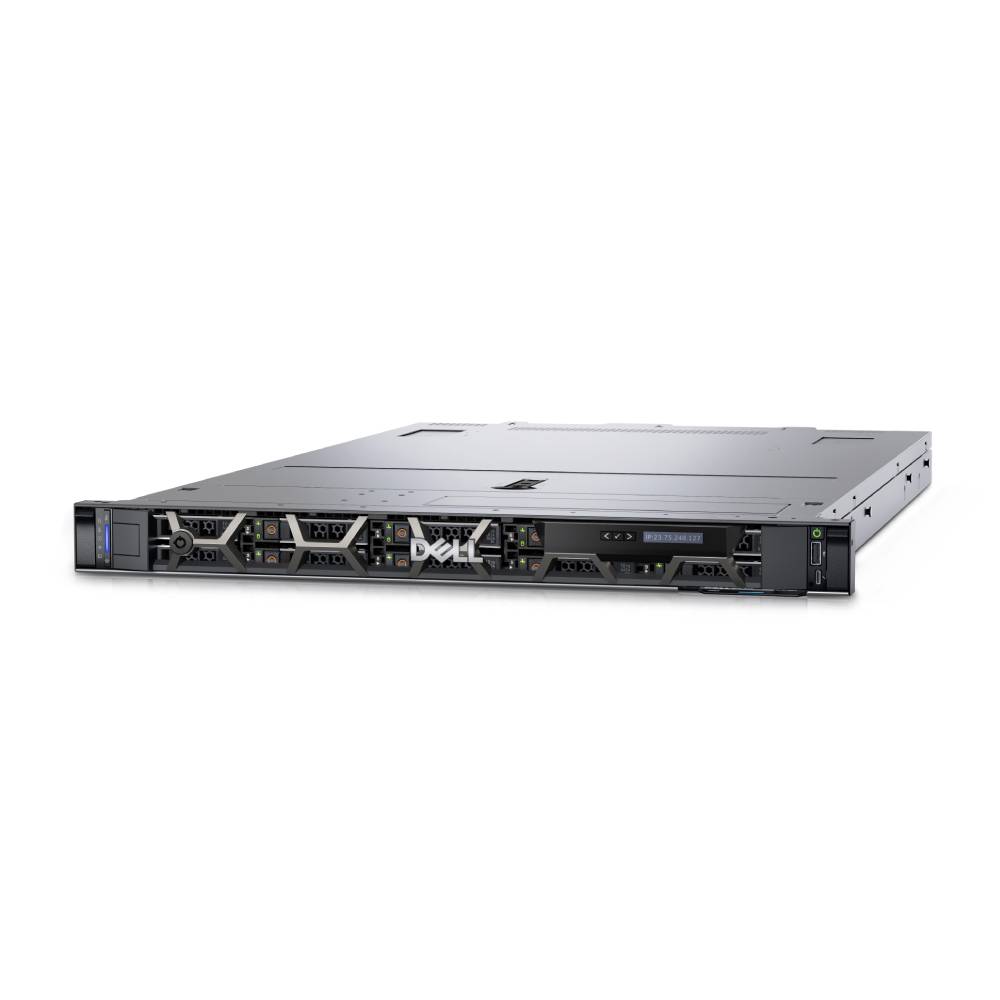 Dell EMC PowerEdge R650 1U Server
The Dell EMC PowerEdge R650, is a full-featured enterprise server, designed to optimize workloads performance and data center density.
Descriptions
The Dell EMC™ PowerEdge™ R650 is Dell EMC's latest 1U 2-socket designed to run complex workloads using highly scalable memory, I/O, and network options. The system features the 3rd Generation Intel® Xeon® Processor Scalable family, with up to 32 DDR4 DIMMs, up to 3 PCI Express® Gen4 enabled expansion slots, and a choice of embedded NIC technologies .
The PowerEdge R650 is a dense, general purpose platform that is ready to run any workload found within a customer's datacenter . The following table lists some of these workloads and the situations wherein the PowerEdge R650 is a good fit.
Chassis views
Front view of the R650, 4x 3.5 inches Chassis

Front view of the R650, 8x 2.5 inches SAS/SATA Chassis
Front view of the R650, 8x 2.5 inches NVMe Chassis

Front View of the R650, 10x 2.5 inches SAS/SATA or NVMe

Rear view of the R650 with 3x LP PCIe Gen4 slots and Hot-plug BOSS

Rear view of the R650 with 2x 2.5 inches Storage drives, 1x LP PCIe Gen4 slot and Hot-plug BOSS

Rear view of the R650 with 2x FH PCIe Gen4 slots and Hot-plug BOSS without rear storage

R650 New technologies
Technology

Detailed Description

3rd Generation Intel® Xeon®  Processor Scalable Family

Consult the supported processors section for specific SKU details .

●   10 nm process technology

●   3x Intel®  Ultra Path Interconnect (UPI) per CPU at 10.4 GT/s or 11.2 GT/s

●   64 PCIe Gen4 lanes at 16 GT/s

●   Up to 40 cores per socket

●   Up to 3.6 GHz

●   Max TDP: 270W

3200 MT/s DDR4 memory

●   Max 16 DIMMs per CPU

●   Supports DDR4 RDIMM, LRDIMM, 3DS DIMM and with ECC up to 3200MT/s

Persistent memory

●   Supports DDR4 Intel Persistent Memory 200 series up to

3200 MT/s, max 8x 512GB Intel Persistent Memory 200 series DIMMs per CPU .

Flex IO

●   LOM board, 2x1 Gb with BCM5720 LAN controller

●   Standard rear IO with 1 Gb dedicated management     network port, USB 3.0 x 1, USB 2.0 x 1, and VGA port

●   Serial port option with standard RIO board

●   OCP Mezz 3.0 (supported by x8 PCIe lanes)

●   LC rear IO with 1 Gb dedicated management network port, USB 3.0 x 1, USB 2.0 x 1

●   Serial port or VGA port option with LC RIO board

Dedicated PERC

●   Front storage module PERC with front PERC10 .5 & PERC11

Software RAID

●   OS RAID/S150

Power supplies

●   60 mm dimension is the new PSU form factor on 15G design

●   Platinum 800W AC Mixed Mode

●   Titanium 1100W AC Mixed Mode

●   Platinum 1400W AC Mixed Mode

●   1100W - 48V DC
System Features and Generational Comparison
The following table shows the comparison between the PowerEdge R650 with the PowerEdge R640:
Feature

PowerEdge R650

PowerEdge R640

CPU

2 x 3rd Generation Intel® Xeon®

Processor Scalable Family

2 x 2nd Generation Intel® Xeon®

Processor Scalable Family

CPU interconnect

Intel Ultra Path Interconnect (UPI)

Intel Ultra Path Interconnect (UPI)

Memory

32 x DDR4 RDIMM, LRDIMM

16 x PMem ( Intel Optane Persistent Memory 200 Series)

24 x DDR4 RDIMM, LRDIMM

12 x NVDIMM

12 x PMem (Intel Optane Apache Pass)

Storage drives

3.5 inches, 2.5 inches- 12 Gb SAS, 6 Gb SATA, NVMe

3.5 inches, 2.5 inches- 12 Gb SAS, 6 Gb SATA, NVMe

Storage controllers

Adapters: HBA355E, H840

PERC: HBA355i, H345, H355, H745, H755, H755N

BOSS- S1 adapter                              

BOSS S2

SW RAID: S150

Adapters: HBA330, H330, H730P, H740P, H840, 12G SAS HBA Mini Mono: HBA330, H330, H730P, H740P SW

RAID: S140

PCIe SSD

Up to 10+2 (10 x direct attach in front, and 2 x direct attach in rear)

Up to 10 (8 x direct attach, 2 x from PCIe bridge card)

PCIe slots

Max 3 PCIe 4.0

Max 3 PCIe 3.0

LOM

2 x 1 Gb

NA

Networking

OCP 3.0 (x8 PCIe)

rNDC

Rack height

1U

1U

Power supplies

100~240 V AC/240 V DC: 800 W, 1100 W, 1400 W

DC - 48 V ~- 60 V :1100 W

AC (Platinum): 495 W, 750 W, 1100 W, 1600W, 2000W, 2400W

AC (Titanium): 750 W

DC: 1100 W

Mix Mode/HVDC: 750 W, 1100 W

System management

LC 4 .x, OpenManage, QuickSync2 .0, Digital License Key, iDRAC Direct     (dedicated micro- USB port), Easy Restore

LC 3 .x, OpenManage, QuickSync 2 .0, OMPC3, Digital License Key, iDRAC Direct (dedicated micro- USB port), Easy Restore, vFlash

Internal GPU

Up to 3 x 75 W (SW)

Up to 3 x 70 W (SW)

Availability

Hot-plug drives

Hot-plug redundant cooling

Hot-plug redundant power supplies

Hot-plug BOSS S2

IDSDM

Hot-plug drives

Hot-plug redundant cooling

Hot-plug redundant Power supplies

BOSS

IDSDM