Lenovo ThinkSystem SR650 review
2022-11-23
Lenovo has returned to the broadest range of products since buying IBM's System x portfolio and has redesigned its ThinkSystem servers from the ground up. They offer a wealth of new features, and in this exclusive review, we get our first look at the ThinkSystem SR650 general-purpose 2U rack server. Support for the Intel Xeon Scalable CPU family is at the top of Lenovo's agenda, and the SR650 showcases a new storage design that offers more options. The SR650 supports up to 14 LFF or 24 SFF drives and comes standard with embedded NMVe PCI-Express ports, while previous generations of AnyBay carriers added storage versatility.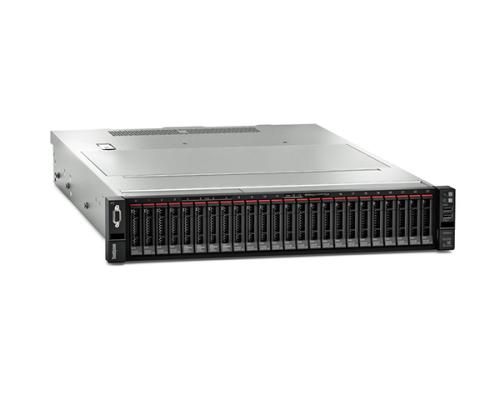 A welcome update for us is Lenovo's embedded XCC (xClarity Controller) chip. Remote server management has been a major weakness of the current System x and ThinkServer platforms, and XCC ties it in tightly with Dell's iDRAC9 and HPE's iLO5.
manage
The first benefit of the ThinkSystem firmware became apparent when we powered the SR650; boot time was drastically reduced. Where our lab's System x3550 M5 rack server took a yawning six minutes to go from booting up to operating system login, the SR650 cut our wait time to 110 seconds.
OS deployment is also easier because xClarity Provisioning Manager provides assisted installation routines. Selected during boot, it helped us create a RAID array and load all the correct drivers for Windows Server 2016 within 30 minutes. And there's more, as the XCC web interface is just like what we've seen from Lenovo before. It opens to a slick home page with a wealth of information on all key components, a quick-access remote control, brief descriptions of all firmware versions, and a set of colored blocks showing utilization and system-wide power consumption.
It provides a complete inventory of every hardware component along with a detailed breakdown of power usage, component utilization, fan and voltage status, and system temperature. You also have direct configuration of RAID controllers, a firmware update tool, and options for setting up server, firmware, and access security.
After updating the lab's xClarity Administrator Hyper-V host to v1.3.2, we were able to add the SR650 to its console, monitor it remotely and use its image repository for centralized OS deployment. We also use Lenovo's xClarity Mobile iOS app on iPads to remotely access administrator hosts, and a new feature for mobile phone-equipped devices is to connect them directly to the ThinkSystem's front USB port for local monitoring. storage
The server's front panel uses the popular 8+8+8 drive bay configuration, allowing support for 8 to 24 SFF drives (HPE's DL380 Gen10 supports 30 SSF drives). The SR650 LFF model can house up to 12 drives in the front, and this case also supports an optional dual bay for rear mounting in place of a 3-slot PCI-Express riser.
Lenovo's AnyBay is unique in that it supports SAS, SATA, standard SSD or NVMe PCIe SSD interfaces in the same bay. The SR650 16-bay model can handle up to 8 bays with the proper AnyBay backplane factory (and dual CPUs) installed.
The key is a pair of embedded dual-port NVMe PCIe connectors on the motherboard. Other server vendors require you to buy optional adapter cards for NVMe drives, but the SR650 supports four out of the box at no additional cost—an additional four requires Lenovo's optional NVMe switch adapter.
The review system includes a ThinkSystem 930-8i SAS3 adapter, which includes a dedicated PCI-Express slot in the center of the motherboard, and includes 2GB of battery-backed flash cache, so the RAID options are plentiful. Lenovo is also offering a dual M.2 SATA SSD support kit with two mirrored 128GB modules for just £328. extension and strength
Internally, the server is well designed with easy access to all major components. The SR650 powers the entire Xeon Scalable lineup and costs the same as the review system, including a dual-core 8-core 2.1GHz Xeon Silver 4110 CPU with 32GB of TRuDDR4 memory.
The Xeon Silver CPUs are aimed at entry-level data center applications, and all five models support 2,400MHz memory, 768GB per socket, and Intel's HT and Turbo Boost technologies. Their low 85W TDP is reflected in our power tests, where the server drew 80W at idle and just 118W under extreme load.
The server comes with a full set of six internal hot-swap cooling fans and dual 750W Platinum hot-swap PSUs. Other PSU options include 550W, 750W Titanium, 1100W, and 1600W, and share form factors across the ThinkSystem lineup.
Instead of an embedded network port, the motherboard provides a LOM slot that interfaces with a C624 PCH that supports dual or quad Gigabit and 10GbE cards. Lenovo's Infiniband and 25/40/100GbE cards require a separate riser board with an ML2 slot. in conclusion
The ThinkSystem SR650 represents a big step forward for Lenovo, as it's well designed, great value, and highly expandable. Support for the Xeon Scalable line allows it to be customized to suit any workload, storage capabilities see major improvements, and the new xClarity Controller finally brings Lenovo into 21st century server management.