The HP ProOne 400 G6 is more than just a sleek look
2022-11-21
For today's young people, when choosing a computer, they also pay great attention to the fashion of the appearance and the overall performance, so if they do well in these two aspects, then the sales will definitely be far ahead of. Now for everyone to focus on, the appearance and performance of the HP ProOne 400 G6 all-in-one machine are nothing to worry about, let's get to know it together.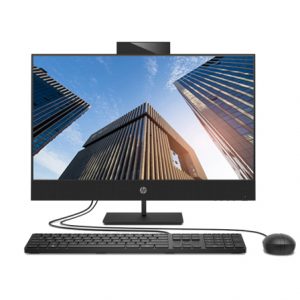 HP ProOne 400 G6 has powerful functions and supports a multi-device environment, which can bring you more equipment options to meet various needs in work and improve office efficiency. HP ProOne 400 G6 also requires higher flexibility, it can be used as an all-round PC, and it can also be combined with some other desktops or laptops to be used as an additional display.
The HP ProOne 400 G6 all-in-one is also very stylish and elegant in appearance design, so it is more suitable for office applications. The size has also reached 23.8 inches, which can meet the space requirements of everyone at work. It is worth mentioning that this all-in-one machine also has richer manageability, and there is no need to worry about security. This is because the hardware security performance of this all-in-one machine has been improved, which can better protect your PC and avoid attachments or websites, as well as malicious ransomware software and virus attacks. It can be updated automatically during the application period, and it also has automatic security checks to protect the PC.
HP ProOne 400 G6 24-inch high-performance all-in-one machine
with borderless design 1080 IPS anti-glare
I5-10500T hexa-core processor 3200MHz 4g can be upgraded to 1TB "7200 rpm" independent display 2g
Suitable for general working environment
The easy-to-deploy, stylish, and feature-rich HP ProOne 400 24 All-in-One combines modern design with enterprise-class performance, collaboration, security, and manageability features.
Powerful features that support multi-device environments
Provide users with multiple device options to meet their workstyle needs and stay productive. The HP ProOne 400 24 All-in-One offers new levels of flexibility as a full-featured PC or as an additional display for other desktops or laptops.
Sleek, Elegant Design
This all-in-one has a stylish design and has passed the US 810H military test, making it suitable for use in front and back office environments. The anti-glare 23.8-inch IPS display provides plenty of room to work.
HP unique security and manageability
HP Sure Sense4, HP Sure Click5, and HP BIOSphere Gen6 help prevent data breaches and downtime. Simplify management with HP Manageability Integration Suite. Simplify fleet deployment and management with optional Intel® Q470 Chipset and Intel® vPro™ technology.