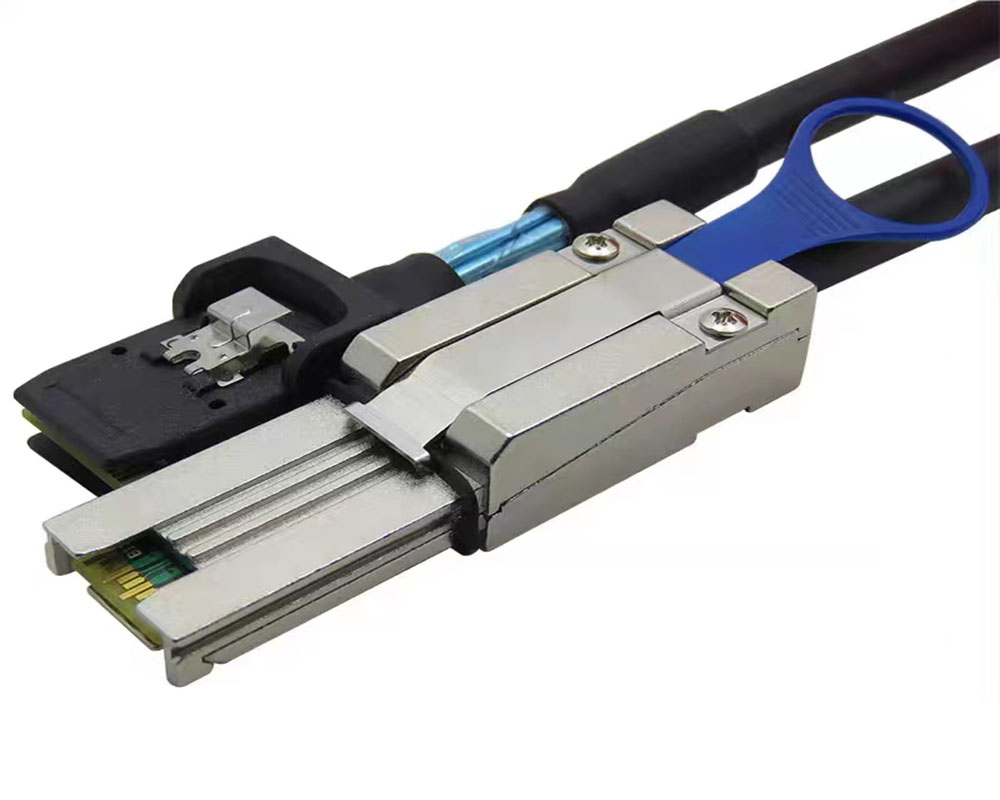 External Mini SAS 26pin SFF-8088 to Internal Mini SAS 36pin SFF-8087 Cable
Product origin China
Delivery time 5-7 workdays
Description
This SAS cable has an external 26-pin SFF-8088 male Mini-SAS plug on one end and an internal 36-pin SFF-8087 male Mini-SAS plug on the other. It used for connecting your external SAS devices (controllers, hard drives, SAN storage area network, etc.) purchases.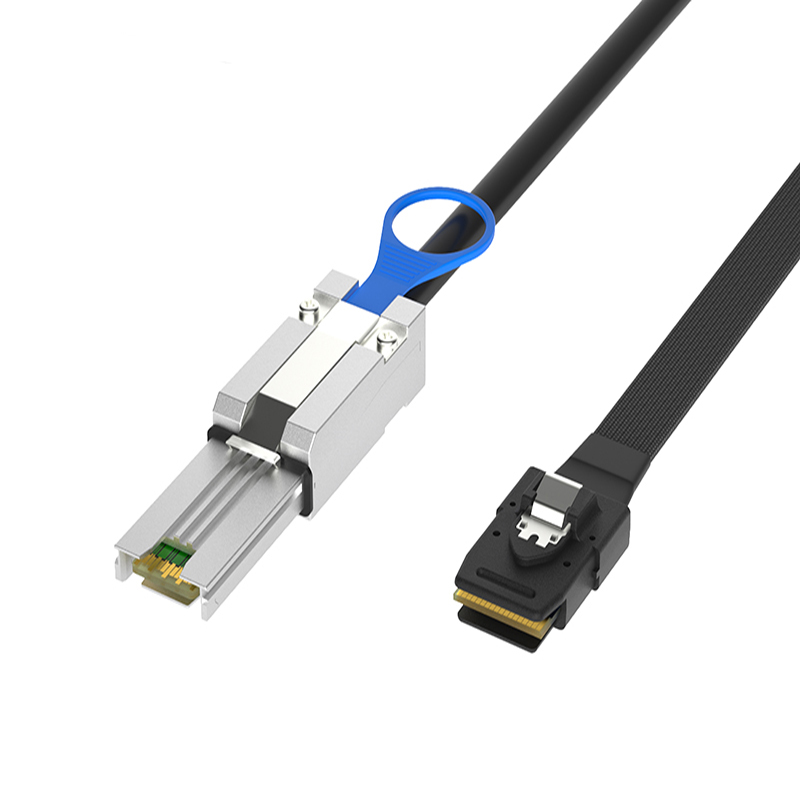 The SFF-8088 MINI SAS is a solution designed to realize external interconnection of small SAS.
The SFF-8088 is a 26P 'mini SAS' connector, and the metal shell is compatible with shielded external connections. A typical application is a SAS HBA between a SAS link to a SAS drive subsystem.
The SFF-8088 complies with the latest 6Gb/s mini-SAS 2.0 specification and supports 6Gb data transfer protocol
The internal counterpart of the SFF-8088 Mini-SAS is SFF-8087, which is also Mini-SAS 2.0 compatible and also supports 6Gb/s SAS data transfer speed.
Both SFF-8088 and SFF-8087 can support up to 4 ports (4 channels) of SAS data.
8

ACETATE TAPE

AQ-3-MS77001

W=25±5mm,BLACK

A/R

mm

AO

INITIAL RELEASE

14/08/30

7

LATCH

A0-3-MS21008

STAINLESS STEEL

1

PCS

REV

DESCRIPTION OF CHANGE

DATE

6

PCBA

AQ-3-MS31019

MINI SAS 36PIN PCB, PIN:15u" Au, 105+10 ohm

1

PCS

TOLERANCE

INCHES M/M

CHANGSHA SKYWARD TELECOM CO., LTD.

5

MOLDING

AQ-3-GL100401

PBT+30GF% BLACK

A/R

KG

.X

.015

.30

.XX

.OW

. 10

4

MOLDING

AQ-3-GL100101

LDPE ROHS

A/R

KG

.XXX

.005

.05

SCALE

NONE

帀rI

REV

AO

3

ASSEMBLY

PARTS

AQ-3-MS62001

ASSEMBLY PARTS (Zinc ALLOY HOODS, HOOK,PULL-TAB, RUBBER RING)

1

set

DRAWN BY

TONY CHAN

UNIT

MM

半 L~ J

SHEET

1/2

COSTOMER:

2

PCBA

AQ-3-MS31021

MINI SAS 26P PCBA, PIN,15u Au, 100+10 Ohm

1

PCS

CHECK BY

DATE

14/08/30

DWG N0,:LT14-373

1

CABLE

AQ-3-MS41 602

(28AWG*2C + D + HMAM + HM)*8C + M+AM + B,0D:7.5 + 0.15MM,BLACK PVC,100+5 Ohm

A/R

mm

APPD BY

TITLE: MINI SAS 36P TO 26P

NO.

PART NAME

PART NO

SPEC DESCRIPTION

QT'Y

UNIT

P/N:

P/N: AQ-1 -MS21 1012000
Specifications
Length: 100cm/

200cm

Impedance:  100 Ohms
Connector A: 

26-pin SFF-8088 male

 connector
Connector B: 

36-pin SFF-8087 male

 connector

Applications for Servers,Data Storage,Workstation.Meet SAS3.0/4.0 specification

Jacket: 

 

PVC, TPE, Nylon
Conductor: 

 

Tinned Copper
Features And Benefits
1. The sending rate is 6Gbps
2. Comply with SAS2.0 specification
3. SFF-8088 MINI SAS is a solution designed to realize small SAS external interconnection
4. Both SFF-8088 and SFF-8087 can support up to 4 ports (4 channels) of SAS data
Application

1. RAID (Redundant Array of Independent Disks)
2. Workstation
3. Rack Server
4. Server
5. Storage shelf