What can HPE SN1100Q 16GB 2P FC HBA bring us
2022-09-13
The full name of HPE SN1100Q 16GB 2P FC HBA is HPE SN1100Q 16Gb Dual Port Fibre Channel Host Bus Adapter. It is a dual-port Fibre Channel host bus adapter developed by HP. Compared to the previous generation, the current bus adapter has twice the I/O performance of the 8Gb Fibre Channel host bus adapter. 16Gb dual ports can be used to deploy more powerful servers and data-intensive applications, including storage-intensive applications such as backup/restore, database transactions, virtualization, and rich media. Improved I/O performance enables faster storage and retrieve data. The specific performance is shown below.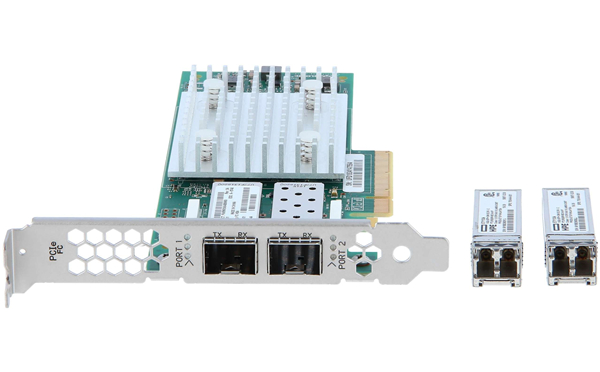 Performance of HPE SN1100Q 16GB 2P FC HBA
1. Provides 16Gbps line rate per physical port and increases the number of virtual machines (VMs) per physical HBA port that can be supported.
2. Supports N_Port ID Virtualization (NPIV) and Industry Standard-based Class-Specific Control (CS_CTL) to provide end-to-end Quality of Service (QoS).
3. When used in conjunction with HPE B-Series FC Switches, advanced diagnostics are available by supporting features such as D-Port Diagnostics, Link Cable Beacon (LCB), Read Diagnostic Parameters (RDP), Enhanced FDMI, FC Ping, and FC. Track routes with less troubleshooting and downtime.
4. The HPE SN1100Q 16Gb Host Bus Adapter enables IT to do more with less.
5. Increase host utilization and enhance application performance or consolidate and virtualize extended physical resources.
All in all, the HPE SN1100Q 16GB 2P FC HBA is an effective solution for workloads and high SLA environments.