PowerEdge R940xa Rack Server
2023-09-05
Accelerate business insights
Drive GPU database acceleration for business-critical applications with powerful four-socket servers. Expand capacity with large internal storage.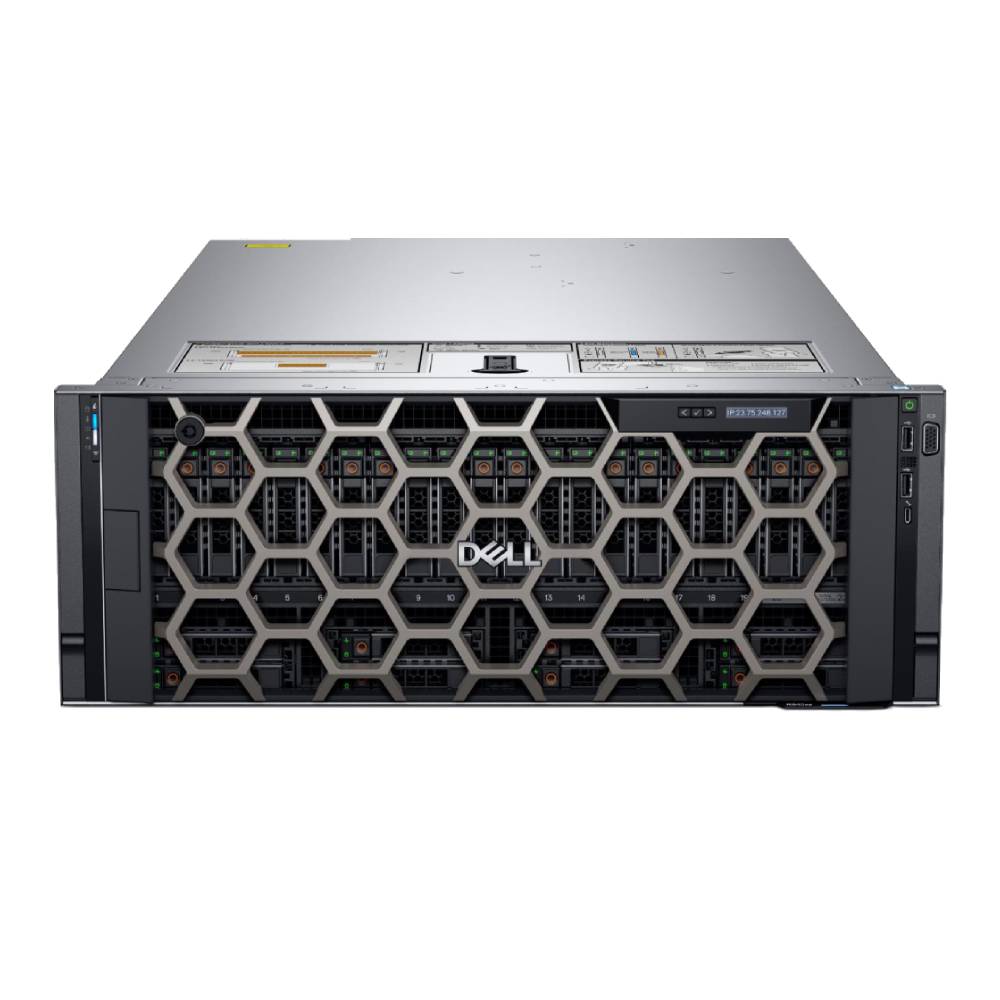 Quickly transform data analysis results into business outcomes
The PowerEdge R940xa accelerates applications to deliver real-time decisions. R940xa combines 4 CPUs and 4 GPUs in a powerful 1:1 ratio to drive database acceleration. The R940xa can be configured with up to 6 TB of memory and four-socket performance for consistent and fast response times. Scale on-premises capacity to eliminate escalating cloud expenses and security risks.
Suitable workload:
Compute intensive applications
Machine learning and artificial intelligence
GPU database acceleration
Dynamically scale resources as workloads grow
The 4U R940xa gives you the flexibility to adapt to changing business needs. Large internal storage allows you to scale easily as your database grows in complexity and size.

Boost performance with up to 4 Intel® Xeon® Scalable processors and up to 112 processing cores
Accelerate workloads with up to 4 double-wide GPUs or up to 8 FPGAs
Meet large data set requirements with up to 48 DIMMs of memory (12 of which can be NVDIMMs)
Easily expand capacity with up to 32 2.5" HDD/SSD, including up to 4 NVME drives
Rapid expansion with up to 12 PCIe slots for external connections
Simplify IT operations for your entire data center
Save the time and effort required to manage your IT environment with intelligent automation capabilities.
Unified systems management and increased efficiency through automation with OpenManage Enterprise, embedded iDRAC9, and SupportAssist
Leverage existing investments in management consoles with OpenManage Integration for VMware vCenter, OpenManage Integration for Microsoft System Center, or OpenManage Connection for Nagios.
Simplify deployment with server configuration file configuration to fully deploy and prepare servers.
Help IT save up to 72% of effort with automated proactive predictive technology provided by ProSupport Plus and SupportAssist.
Provides comprehensive data center protection to maximize uptime.
Dell EMC offers a network-resilient architecture that embeds security into every server to keep your data safe. High availability features help drive continuous operations.

Protect server configuration and firmware from malicious changes with configuration locking.
Use system wipe for local storage to preserve data privacy when you repurpose or retire servers.
Secure control of your firmware console with embedded authentication that only allows properly signed updates to run.
Help ensure uptime with hot-swappable drives and power supplies.