DELL PowerEdge R660 rack server performance index evaluation
2023-09-06
The Dell PowerEdge R660 is a 1U, dual-CPU rack server based on Intel's fourth-generation Xeon scalable "Sapphire Rapids" processors. It supports the latest server technology, including E3.S Gen5 storage, DDR5 memory, and configurations with liquid CPU cooling. Despite the 1U form factor, it can accept up to 16 SSDs.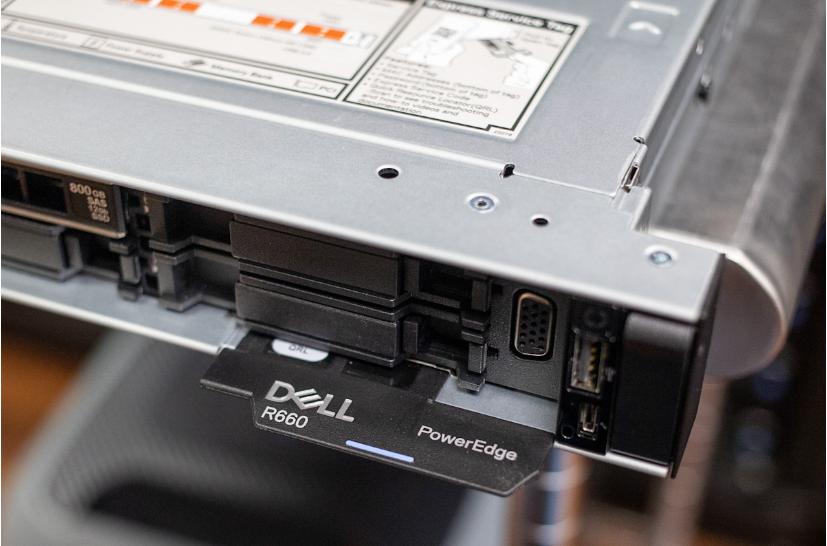 Dell PowerEdge R660 specifications
The PowerEdge R660 is an upgrade from Dell's previous generation PowerEdge R650. This 1U rack server is suitable for all applications from general purpose to HCI/HPC. Key features include support for two processors (dual socket), 32 RDIMMs, and three graphics cards.
The biggest step forward for the R660 over the R650 is that it's based on Intel's "Sapphire Rapids" 4th generation Xeon Scalable processors. These new chips scale up to 56 points, use DDR5 memory and support Gen5 storage.
Storage configuration is also one of the advantages of this server. Traditional storage can scale up to ten 2.5-inch SAS/SATA drives, but it can also use Gen5 NVMe SSDs. Additionally, new backplane options include support for up to 16 E3.S (7mm) drives. There are also rear drive options for booting, including a new NVMe BOSS drive.
Technical specifications and customization
Up to two 4th Generation Intel@Xeon Scalable processors with up to 56 cores each and optional Intel QuickAssist Technology

Operating system options
Canonical Graph Ubuntu® Server LTS
Microsoft® Windows Server® (with Hyper-V)
Red Hat® Enterprise Linux
SUSE® Linux Enterprise Server
VMware ESXi

Chipset options
Intel @ C741 Series Chipset

Accelerator
Up to 2 75 W SW

Memory
DIMM speed: Up to 4800 MT/s

Memory type
RDIMM
Memory module slot
32 DDR5 DIMM slots
Maximum RAM
RDIMM 4TB
Storage
front bay
Up to eight 2.5-inch SAS/SATA/NVMe (HDD/SSD), up to 122.88 TB capacity Up to 10 2.5-inch SAS/SATA/NVMe (HDD/SSD), up to 153.6 TB capacity
middle bracket
not applicable
rear bracket
Up to 2 2.5-inch SAS/SATA/NVMe(HDD/SSD), capacity up to 30.72 TB
storage controller
internal controller
PERC H965i, PERC H755, PERC H755N, PERC H355, HBA355i
external controller
HBA355e
Software RAID
S160
internal start
Boot Optimized Storage Subsystem (BOSS-N1): HWRAID 2 x M.2 NVMe SSD
USB