Dell T7920 Workstation, Safe and Reliable
2022-10-14
Reason for purchase
Reduce downtime with Dell Reliable Memory Technology (RMT) Professional Edition. RMT can be used with ECC memory to eliminate potential computer crashes by mapping out failed memory locations after a system restart. Increase data availability with optional hardware and software RAID storage options, including PCIe NVMe SSDs. Precision workstations have been tested to ensure the high-performance applications you use every day run smoothly. Dell ISV certifications cover commonly used stand-alone software applications.
Appearance Gallery
Experience
ultimate flexibility and expandability: The Precision 7920 Tower Workstation combines versatile design with outstanding storage expandability to keep pace with your ideas. Adapt to every need: This Precision workstation is designed for the future, allowing you to reach your full potential. It features next-generation AMD Radeon Pro™ and high-performance NVIDIA Quadro graphics for complex projects such as virtual reality workflows. This stationary workstation supports graphics cards up to 900W and can also support three dual-width graphics cards up to 300W, including consumer graphics cards. The optional DPAI audio module handles professional applications and easily meets your various audio and video needs. Optimized performance: Dell Precision Optimizer, included for free with Precision workstations, enables faster application optimization than HP Advisor with just one click. It also automatically tunes workstations to run popular independent software vendor (ISV) applications as fast as possible, as well as automates system updates and provides analytics to eliminate resource bottlenecks.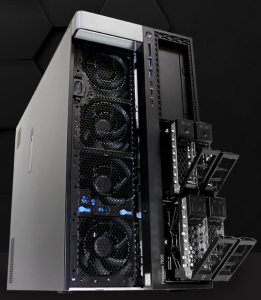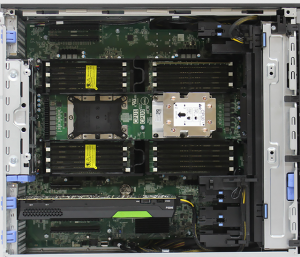 Summarize
Delivers the next generation of two-socket performance to run and handle a wide range of complex and demanding applications quickly and efficiently. Featuring the new Intel Xeon Scalable family of processors, up to 28 cores per processor or 56 total cores in custom dual-processor configurations.
With up to 1.5 TB of 2666 Mhz RDIMM/LRDIMM new high-speed expandable memory, you can speed up your workflow across the board. Current 6-channel memory architecture with up to 3.0 TB total with selected CPUs (dual processors required). Good heat dissipation, no fear of pressure: The new multi-channel heat dissipation design, better heat dissipation performance and quietness, can make the whole system work more quietly under heavy workloads. The new FlexBay design supports up to 10 2.5"/3.5" SATA/SAS drives or up to 4 M.2 or U.2 PCIe NVMe SSDs, giving you more flexibility in how you work. M.2 and U.2 PCIe NVMe SSDs are hot-swappable, allowing you to remove drives without shutting down your workstation.