Best selling server in the world-HPE Proliant ML350 Gen10 Server
2022-10-14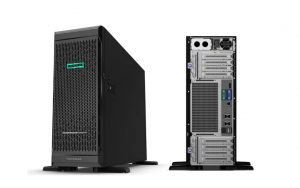 Do you need a powerful server for SMBs and remote offices? The HPE ProLiant ML350 Gen10 Server is a secure two-socket tower server with performance, scalability, and proven reliability ideal for growing small and medium businesses, large enterprise remote offices, and enterprise data centers. The ProLiant ML350 Gen10 is powered by Intel® Xeon® Scalable processors, delivering up to 71%  performance improvement and 27% more cores, while supporting capacities up to 3.0 TB at 2933 MT/s or 2666 MT/ Second HPE DDR4 SmartMemory, 11% faster than 2400 MT/s memory. A redesigned rack-mountable chassis with a shorter form factor and multiple upgrade options provides the flexibility to grow as your business needs grow. This chassis supports 12Gb/s SAS, NVMe SSDs and 4 embedded 1 Gigabit Ethernet NICs, numerous graphics and computing options. The ProLiant ML350 Gen10 server, powered by HPE Pointnext's best-in-class services, enables digital business transformation and increased agility while staying within enterprise IT budgets.
new features
Support other 2nd Gen Intel® Xeon Scalable processor products to deliver value to customers with higher performance and frequency.
Support for mixing LFF and SFF drive enclosures in the same server facilitates tiered storage, allowing customers the flexibility to choose drive types to meet cost and capacity requirements.
Products for small and medium-sized enterprises with obvious price advantages.
Function
Versatile, great performance
The HPE ProLiant ML350 Gen10 Server supports up to 2 Intel Xeon Scalable processors, ranging from Bronze to Platinum, 4-core to up to 28-core processors, for outstanding performance.
Equipped with up to 24 DIMM slots supporting HPE DDR4 SmartMemory at speeds of 2933 MT/s or 2600 MT/s, while reducing data loss and downtime with fast fault tolerance licensed by HPE Gen10 technology, Improve workload performance and power efficiency.
Supports a wide range of solutions such as Azure, Docker, and traditional operating systems.
GPU expansion supports up to 4 devices to accelerate the performance of VDI applications and machine learning in financial services, surveillance and security, education and research, and retail and medical imaging.
Added NVIDIA Tesla T4 and NVIDIA Quadro RTX8000/6000/4000 GPU option support complements this AI tower server, making it a more powerful server with high-speed GPU connectivity, ray tracing and AI capabilities.
Scale as your business needs evolve
The ProLiant ML350 Gen10 supports a mix of LFF and SFF drive enclosures within the same server for very high scalability and flexibility. Supports 8 to 24 SFF or 16 SFF (when mixed with 8 NVMe PCIe SSDs), 4 to 12 LFF hot-plug or non-hot-plug drives to protect IT assets in mixed environments.
With 8 PCIe slots, 6 USB ports, 5U rack conversion and power options, there is plenty of room for expandable capacity.
Supports you with 4 embedded 1 Gigabit Ethernet adapters and a choice of PCIe stand-up 1 Gigabit Ethernet, 10 Gigabit Ethernet, 25 Gigabit Ethernet, or 100 Gigabit Ethernet adapters and InfiniBand cards Flexible selection of network bandwidth and structure to meet the expansion needs of different stages of business development.
Safety Innovation
HPE Integrated Lights Out 5 (iLO 5) features HPE Silicon Root of Trust technology that protects servers from attack, detects potential intrusions, and securely restores critical server firmware for the most secure industry-standard servers.
iLO 5 security features include: Server Configuration Lock, which ensures secure transfers; iLO Security Dashboard, which helps detect and resolve potential security holes in server settings; and Workload Performance Advisor, which provides server tuning recommendations to improve server performance .
Runtime firmware verification checks the server firmware every 24 hours to confirm the validity and trustworthiness of the base system firmware. When compromised code is detected, a secure recovery feature rolls back the server firmware to the last known good state or factory settings.
The Trusted Platform Module (TPM) also has additional security options to prevent unauthorized access to the server and securely store items used to authenticate the server.
HPE InfoSight provides analytics tools that can predict and prevent problems before your business is impacted.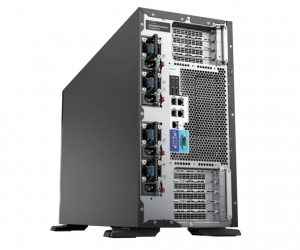 Great service, easy to deploy
The HPE ProLiant ML350 Gen10 server comes with a full suite of HPE Pointnext services, providing customers with peace of mind while reducing risk and helping customers achieve agility and stability.
HPE Pointnext Services simplify all stages of the IT journey. Consulting and Transformation Services specialists understand clients' challenges and can design effective solutions for them. Premium services enable rapid deployment of solutions, while operations services provide ongoing support.
Services offered under Operational Services include: HPE Elastic Capacity Services, HPE Data Center Operations Assurance, HPE Infrastructure Automation, HPE Campus Operations Assurance, HPE Proactive Support Services, and Multi-Vendor Services.
HPE IT investment solutions help you economically transform to a digital enterprise based on your business goals.