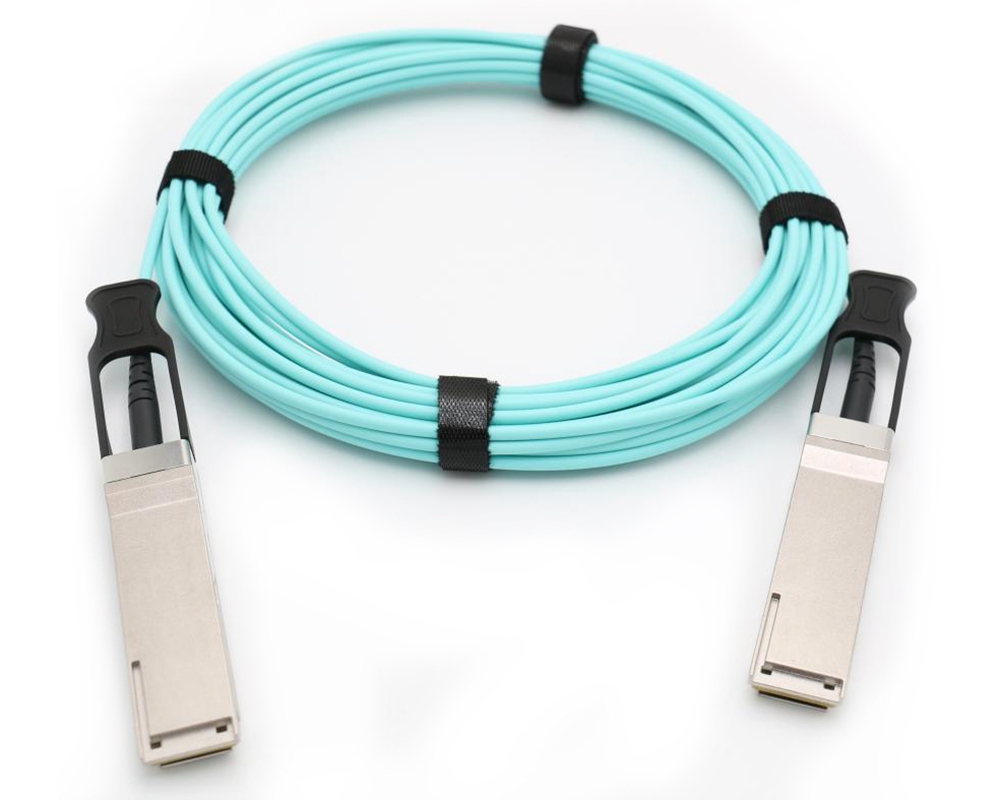 40G QSFP Compatible Active Optical Breakout Cable
40G QSFP Compatible Active Optical Breakout Cable, fully tested compatible for over 100 vendors.
1
Description
:
40Gb/s QSFP+ AOC (Active Optical Cables) has four channels, each channel has a transmission rate of up to 10Gb/s, and the aggregate rate is up to 40Gb/s. Its low power consumption, low bit error rate, easy management, and high performance are widely used in medium and short-distance high-speed interconnection of network cards, switches, servers, supercomputers, and storage networks.
2
Features
:
4 channels 850nm VCSEL and PIN
Electrical interface compliant to SFF-8436
Support 40GE data rate
Hot Pluggable QSFP form factor
Built-in digital diagnostic functions
Operating case temperature 0°C to +70°C
3V power supply voltage
Round OFNP-rated cable
3
Applications :
10Gbs~40Gbs Ethernet
Data storage and communications industry
Servers and data storage devices
Switch/router/HBA, etc.
Outline
drawing:
| | | | | | | | | | | | | | | | |
| --- | --- | --- | --- | --- | --- | --- | --- | --- | --- | --- | --- | --- | --- | --- | --- |
| | L | L1 | L2 | L3 | L4 | W | W1 | W2 | H | H1 | H2 | H3 | H4 | H5 | H6 |
| Max | 72.2 | - | 128 | 4.35 | 61.4 | 18.45 | - | 6.2 | 8.6 | 12.4 | 5.35 | 2.5 | 1.6 | 2.0 | - |
| Type | 72.0 | - | - | 4.20 | 61.2 | 18.35 | - | - | 8.5 | 12.2 | 5.2 | 2.3 | 1.5 | 1.8 | 6.55 |
| Min | 68.8 | 16.5 | 124 | 4.05 | 61.0 | 18.25 | 2.2 | 5.8 | 8.4 | 12.0 | 5.05 | 2.1 | 1.3 | 1.6 | - |
| | | | | | | | | | | | | | | | |
| --- | --- | --- | --- | --- | --- | --- | --- | --- | --- | --- | --- | --- | --- | --- | --- |
| | L | L1 | L2 | L3 | L4 | W | W1 | W2 | H | H1 | H2 | H3 | H4 | H5 | H6 |
| Max | 72.2 | - | 128 | 4.35 | 61.4 | 18.45 | - | 6.2 | 8.6 | 12.4 | 5.35 | 2.5 | 1.6 | 2.0 | - |
| Type | 72.0 | - | - | 4.20 | 61.2 | 18.35 | - | - | 8.5 | 12.2 | 5.2 | 2.3 | 1.5 | 1.8 | 6.55 |
| Min | 68.8 | 16.5 | 124 | 4.05 | 61.0 | 18.25 | 2.2 | 5.8 | 8.4 | 12.0 | 5.05 | 2.1 | 1.3 | 1.6 | - |
pinDescription
| | | | |
| --- | --- | --- | --- |
| Pin | Symbol | Name/Description | Notes |
| 1 | GND | Ground | 1 |
| 2 | Tx2n | Transmitter Inverted Data Input | |
| 3 | Tx2p | Transmitter Non-Inverted Data Input | |
| 4 | GND | Ground | 1 |
| 5 | Tx4n | Transmitter Inverted Data Input | |
| 6 | Tx4p | Transmitter Non-Inverted Data Input | |
| 7 | GND | Ground | 1 |
| 8 | ModSelL | Module Select | |
| 9 | ResetL | Module Reset | |
| 10 | Vcc Rx | +3.3V Power Supply Receiver | |
| 11 | SCL | 2-wire serial interface clock | |
| 12 | SDA | 2-wire serial interface data | |
| 13 | GND | Ground | 1 |
| 14 | Rx3p | Receiver Non-Inverted Data Output | |
| 15 | Rx3n | Receiver Inverted Data Output | |
| 16 | GND | Ground | 1 |
| 17 | Rx1p | Receiver Non-Inverted Data Output | |
| 18 | Rx1n | Receiver Inverted Data Output | |
| 19 | GND | Ground | 1 |
| 20 | GND | Ground | 1 |
| 21 | Rx2n | Receiver Inverted Data Output | |
| 22 | Rx2p | Receiver Non-Inverted Data Output | |
| 23 | GND | Ground | 1 |
| 24 | Rx4n | Receiver Inverted Data Output | |
| 25 | Rx4p | Receiver Non-Inverted Data Output | |
| 26 | GND | Ground | 1 |
| 27 | ModPrsL | Module Present | |
| 28 | IntL | Interrupt | |
| 29 | Vcc Tx | +3.3V Power supply transmitter | |
| 30 | Vcc1 | +3.3V Power supply | |
| 31 | LPMode | Low Power Mode | |
| 32 | GND | Ground | 1 |
| 33 | Tx3p | Transmitter Non-Inverted Data Input | |
| 34 | Tx3n | Transmitter Inverted Data Input | |
| 35 | GND | Ground | 1 |
| | | | |
| --- | --- | --- | --- |
| 36 | Tx1p | Transmitter Non-Inverted Data Input | |
| 37 | Tx1n | Transmitter Inverted Data Input | |
| 38 | GND | Ground | 1 |
Electrical Characteristics:
Parameter

Symbol

Min.

Typ.

Max.

Units

Notes

 

ModSelL

Module Select

VOL

0

-

0.8

V

Module Unselect

VOH

2.5

-

VCC

V

 

LPMode

Low Power Mode

VIL

0

-

0.8

V

Normal Operation

VIH

2.5

-

VCC+0.3

V

 

ResetL

Reset

VIL

0

-

0.8

V

Normal Operation

VIH

2.5

-

VCC+0.3

V

ModPrsL

Normal Operation

VOL

0

-

0.4

V

 

IntL

Interrupt

VOL

0

-

0.4

V

Normal Operation

VoH

2.4

-

VCC

V

Electrical transmitter Characteristics

Differential Date Input Swing

Vout

200

-

1600

mV

Output Differential Impedance

ZD

90

100

110

Ω

Electrical Receiver Characteristics

Differential Data Output Swing

Vin,P-P

350

-

800

mVPP

Bit Error Rate

BER

E-12

1

Input Differential Impedance

ZIN

90

100

110

Ω
 RecommendedOperating Conditions:
| | | | | | | |
| --- | --- | --- | --- | --- | --- | --- |
| Parameter | Symbol | Min. | Typical | Max. | Unit | Notes |
| Operating Case Temperature | TC | 0 | - | +70 | °C | |
| Power Supply Voltage | Vcc | 3.14 | 3.3 | 3.47 | V | |
| Power Dissipation | Pd | - | - | 1.5 | W | 1 |
| Bit Rate | BR | 1.25 | 10.3125 | - | Gbps | |
AbsoluteMaximum Ratings :
| | | | | | | |
| --- | --- | --- | --- | --- | --- | --- |
| Parameter | Symbol | Min. | Typical | Max. | Unit | Notes |
| Supply Voltage | Vcc3 | -0.5 | - | +3.6 | V | |
| Storage Temperature | Ts | -10 | - | +70 | °C | |
| Operating Humidity | RH | +5 | - | +85 | % | 1 |