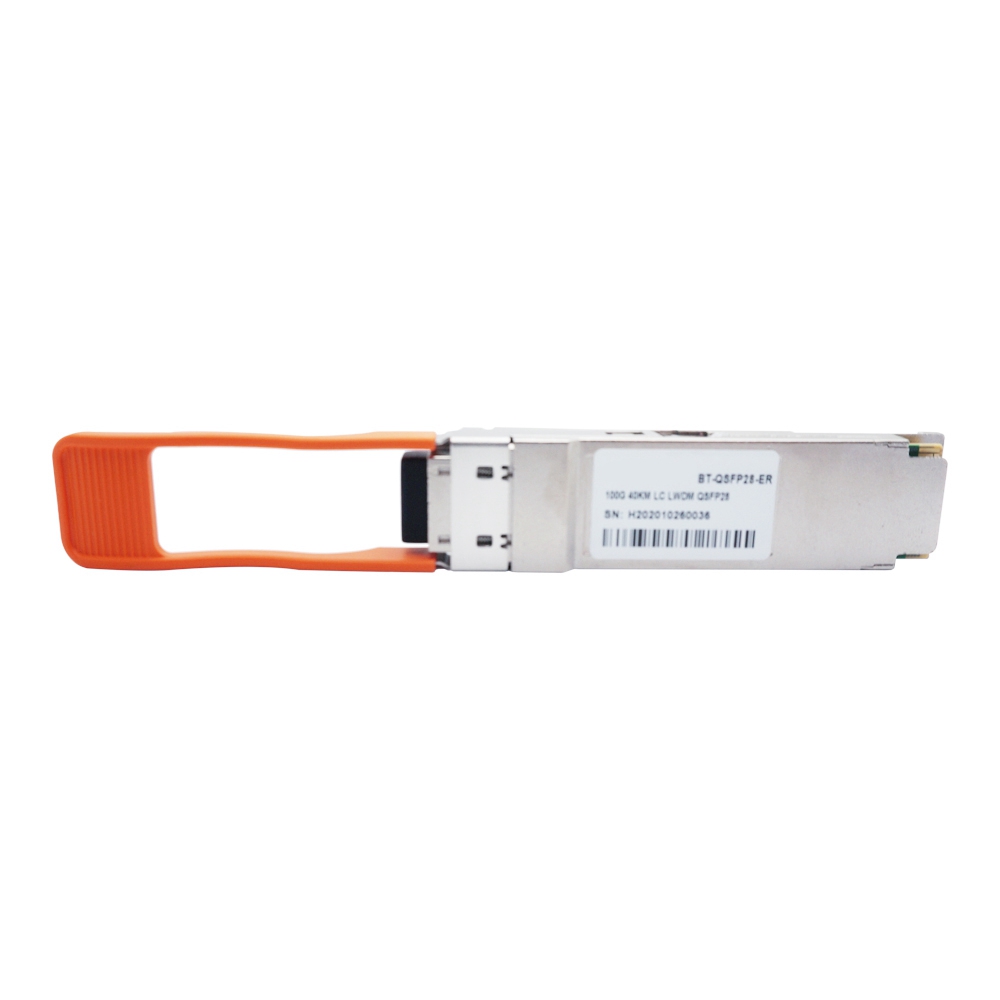 100Gb/s QSFP28 ER4 40km Compatible Optical Transceiver
100Gb/s QSFP28 ER4 40km Optical Transceiver, fully tested compatible for over 100 vendors.
Features
Hot Pluggable QSFP28 form factor
Supports aggregate bit rate up to 103.125Gb/s
LC Duplex optical interface
4x25Gb/s LAN-WDM transmitter, EML laser,APD array detector
Operating case temperature:0 to 70 °C
Low power consumption <4.5W
Applicable for 40km SMF connection without FEC
All-metal housing for superior EMI performance
IIC management interface
Single +3.3V power supply
RoHS compliant (lead free)
Standards
SFF8436,SFF-8636
SFF-8665, SFF8661
IEEE 802.3ba
Description
The 40km 100GBase-ER4 QSFP28 transceiver is designed to meet the requirements of 100G ethernet links
over SMF up to 40km. It is compliant with QSFP28 MSA, IEEE 802.3ba. It is cost-effective, low power consump
tion with a single 3.3V power supply. The module has an aggregate bit rate up to 103.125Gbps by multiplexing
of 4 independent LAN-WDM optical lanes, each lane capable of transmitting 25.78125Gb/s over 40km SMF.
Absolute Maximum Ratings
Parameter

Symbol

Min

Typ

Max

Unit

Power Supply Voltage

Vcc

-0.5

3.6

V

Storage Temperature Range

Ts

-40

85

°C

Relative Humidity - Storage

RHS

0

95

%

Relative Humidity - Operating

RHO

0

85

%

Static electrical discharge (human body

model)

-

500

-

-

V
Recommended Operating Conditions
| | | | | | |
| --- | --- | --- | --- | --- | --- |
| Parameter | Symbol | Min | Typ | Max | Unit |
| Case Operating Temperature Range | Tc | 0 | - | 70 | °C |
| Power Supply Voltage | Vcc | 3.14 | 3.3 | 3.46 | V |
| Total Power Consumption | P | - | - | 4.5 | W |
| Data Rate per lane | BR | - | 25.78125 | - | Gbps |
Electrical Characteristics
Transmitter Electrical Characteristics

Parameter

Symbol

Min

Typ

Max

Unit

Differential Input Voltage Swing

VIN

180

-

900

mV

Tx Differential Input Impendence

ZIN

-

100

-

Ω

Differential input return loss

Per 100Gbase-ER4

dB

Common mode input return loss

Per 100Gbase-ER4

dB

Receiver Electrical Characteristics

Parameter

Symbol

Min

Typ

Max

Unit

Differential output Voltage Swing

VOUT

300

-

1200

mV

Rx Differential Output Impendence

ZOUT

-

100

-

Ω

Differential output return loss

Per 100Gbase-ER4

dB

Common mode output return loss

Per 100Gbase-ER4

dB
Optical Characteristics 
Parameter

Symbol

Min

Typ

Max

Unit

Notes

Transmitter Characteristics

Laser Type

EML

Data Rate per lane

fDC

-

25.78125

-

Gb/s

Aggregate Data Rate

fD

-

103.125

-

Gb/s

Signal Speed Variation from Nominal

△fD

-100

-

100

ppm

Lane Center Wavelength Range

λ

1294.53 - 1296.59

nm

1299.02 - 1301.09

1303.54 - 1305.63

1308.09 - 1310.19

Side Mode Suppression Ratio

SMSR

30

-

-

dB

Total Average launch Power

PTOTAL

-

-

8.9

dBm

Average Launch Power, each lane

POUT

-

2

-

dBm

Optical Modulation Amplitude (OMA), each lane

POMA

0.1

4.5

dBm

Launch Power in OMA minus TDP, each lane

-2.3

-

-

dBm

Average Launch Power of OFF transmitter, each lane

POFF

-

-

-30

dBm

Extinction Ratio

ER

8

-

-

dB

Transmit Reflectance

RFL

-  

-  

-12

dB

Eye Diagram

Complies with 100Gbase-LR4 eye masks when filtered

Receiver Characteristics

Receiver Type

APD

Data Rate per lane

-

25.78125

-

Gb/s

Operating Central Wavelength

λ

1294.53 - 1296.59

nm

1299.02 - 1301.09

1303.54 - 1305.63

1308.09 - 1310.19

Damage Threshold

5.5

-

-

dBm

Receiver Sensitivity, each lane

SenOMA

-

-19

-

dBm

1

Average Receive Power, each lane

-

-

4.5

dBm

Receiver Power, each lane (OMA)

-

-

4.5

dBm

Receiver Reflectance

RFL

-

-

-26

dB

LOS Assert

LOSA

-30

-   

-

dBm

LOS De-Assert

LOSD

-

-   

-25

dBm

LOS Hysteresis

LOSH

0.5

3

5

dB

Notes

1. BER=10-12
Ordering information
| | |
| --- | --- |
| Part Number | Description |
| BT-QSFP28-ER4 | 100Gbps QSFP28 LAN WDM4, LC, 40km, 0°C~+70°C, with DDM |