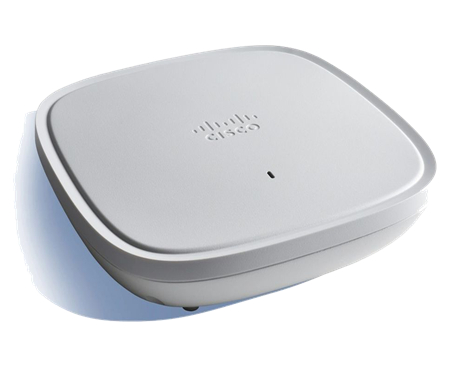 C9105AXI H Cisco Access Point
C9105AXI H is a Cisco enterprise-class access point. It has built-in wifi 6 wireless network protocol OFDMA scheduling function, which can provide smooth 4K video and other high-load programs such as multi-open applications.
Features
Wireless wifi 6 technology provides 2.4 and 5GHz frequency bands, 4K video and IoT run smoothly.
Bluetooth 5 wireless technology can be used for asset tracking or wayfinding tracking.
MU-MIMO supports two spatial streams for increased throughput.
Parameters
Model
C9105AXI H

Software

●  Cisco Unified Wireless Network Software Release 8.10.MR3 or later

●  Cisco IOS ® XE Software Release 17.3.1, or later

Supported wireless LAN controllers

●  Cisco Catalyst 9800 Series Wireless Controllers

●  Cisco 3504, 5520, and 8540 Wireless Controllers and Cisco Virtual Wireless Controller

802.11n version 2.0 (and related) capabilities

●  2x2 MIMO with two spatial streams

●  Maximal Ratio Combining (MRC)

●  802.11n and 802.11a/g

●  20- and 40-MHz channels

802.11ac

●  2x2 downlink MU-MIMO with two spatial streams

●  MRC

●  802.11ac beamforming

●  20-, 40-, 80- MHz channels

802.11ax

●  2x2 uplink/downlink MU-MIMO with two spatial streams

●  Uplink/downlink OFDMA

●  TWT

●  BSS coloring

●  MRC

●  802.11ax beamforming

Integrated antenna

Catalyst 9105AXI

●  2.4 GHz: Peak gain 4 dBi, internal antenna, omnidirectional in azimuth

●  5 GHz: Peak gain 5 dBi, internal antenna, omnidirectional in azimuth

Interfaces

Catalyst 9105AXI

●  1x 10/100/1000 Base-T (Ethernet) Uplink Interface

●  Management console port (RJ-45)

Indicators

●  Status LED indicates boot loader status, association status, operating status, boot loader warnings, and boot loader errors

Dimensions
(W x L x H)

●  Access point (without mounting brackets):

C9105AXI: 5.9 x 5.9 x 1.18 in. (150 x 150 x 30 mm)