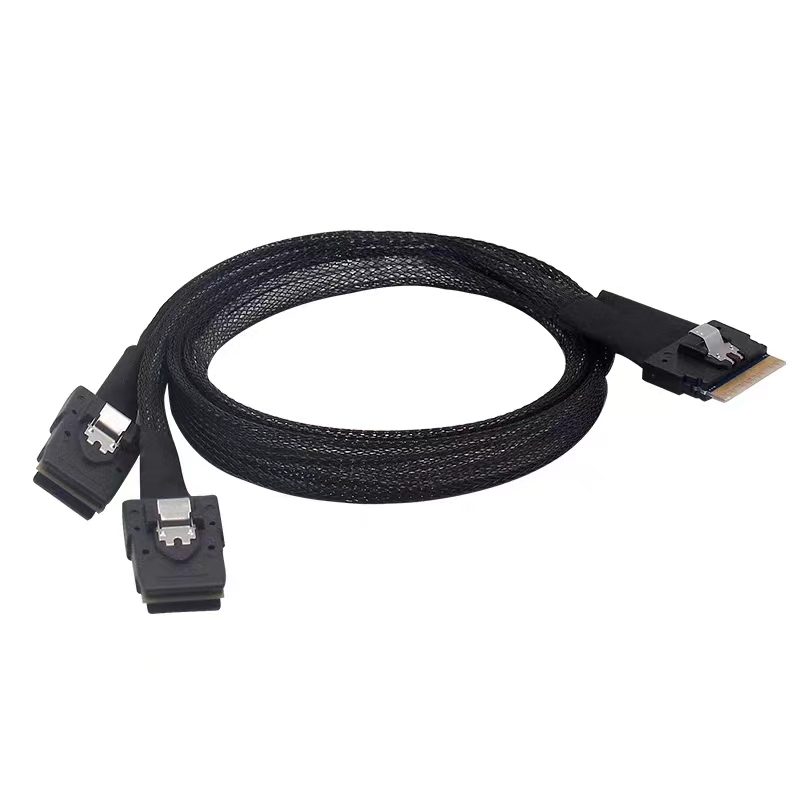 Slim SAS 4.0 SFF-8654 8i to 2* SFF-8087 Mini SAS Cable
SlimSAS 4.0 SFF-8654 8i 74pin to Dual SFF-8087 36pin Mini SAS Cable, 85-ohm, 32AWG.
Descripti0n
This cable can be used to connect internal devices, e.g. a backplane with Slim Line 8654 74 pin connector to a controller with SFF-8087 36 Pin connector.
Ultraport Slimline 8i 74Pos Cable Assembly

Length:  50cm/ 80cm

Connector 1:  Slimline SFF-8654 8i 74pin

Connector 2:  Dual SFF-8087 Mini SAS

Type of connector: 

Male-to-Female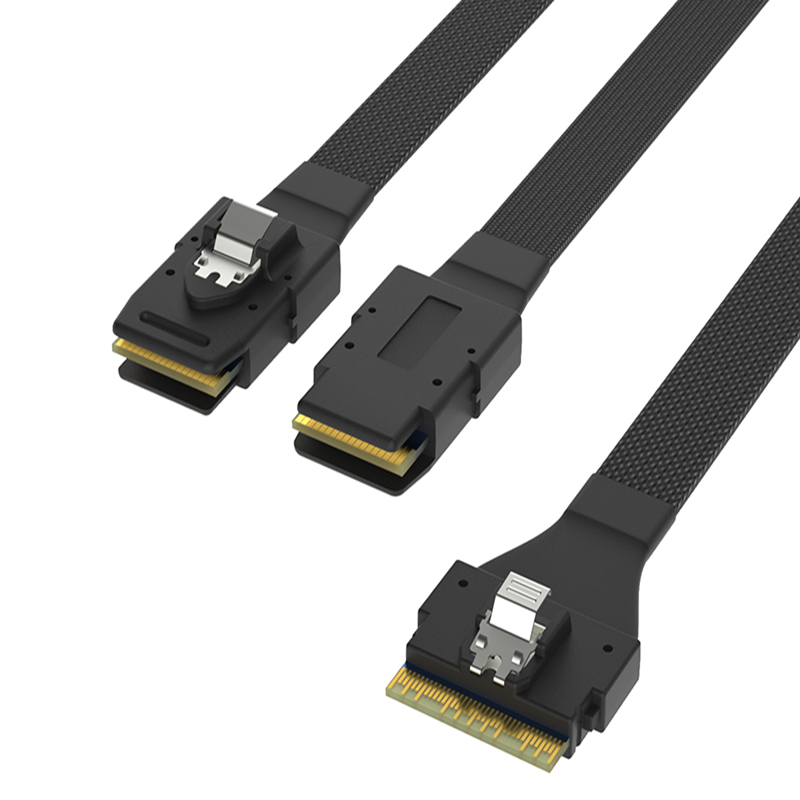 Features and advantages

1.Smaller size connectors and cables save equipment space
2.Provide 8-channel signal transmission according to industry standards
3.Data speed: each channel supports UPI 11.2GT/s, SAS4.0 24Gbps, OpenCAPI 25Gbps and PCIe 4.0 16Gbps
4.Comply with SAS4.0 and SlimSAS SFF-8654 specifications

 
Mechanical behavior

1.Combining force: 55.5N max
2.Releasing force: 49N max
3.Rated durability period: at least 250 cycles

 
Electrical performance

1.Voltage: 30VDC per contact SlimSAS 8i plug: maximum 80mohm initial, maximum 20mohm after pressure test.
2.Dielectric withstand voltage: minimum 300 VDC, lasting 100 ms
3.Insulation resistance: the minimum value between adjacent pins is 10MΩ

 
 Signal integrity

1.Impedance of mating connector: 100 +/- 10% ohm
2.Common mode impedance: in line with SAS4.0 specifications
3.Insertion loss: in line with SAS4.0 specification,
4.Maximum crosstalk: in line with SAS4.0 specifications

 
Environmental compliance

Comply with RoHS2.0 standard
China RoHS: Yes
Reach SVHC: Yes
Application Field

1.Server
2.Data storage
3.Workstation