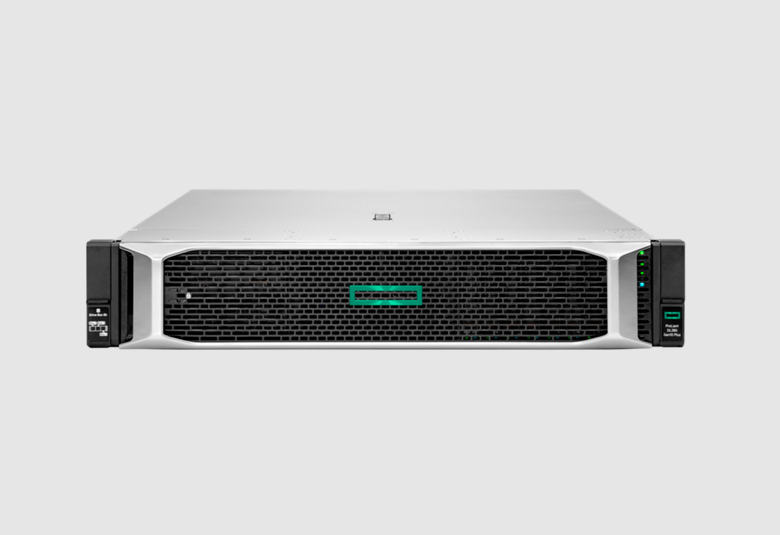 HPE ProLiant DL380 Gen10 Plus Server
Adaptable for diverse workloads and environments, the secure 2P 2U HPE ProLiant DL380 Gen10 Plus delivers world-class performance with the right balance of expandability and scalability. 
Features
Designed for supreme versatility and resiliency while being backed by a comprehensive warranty make it ideal for multiple environments from Containers to Cloud to Big Data. Standardize on the industry's most trusted compute platform.
What's New
New Pre-configured SKUs using Broadcom Tri-mode controllers
New Pre-configured SKU using HPE SR100i Gen10 Plus FIO Software RAID/VROC SATA controller.
HPE NVMe Gen4 High Performance Low Latency Write Intensive SFF BC U.2 P5800X SSD drives.
HPE Slingshot SA210S Ethernet 200Gb 1-port PCIe NIC
Performance
The 3rd generation Intel Xeon Scalable processors require a different socket than the previous 1st and 2nd generation, which explains the lack of compatibility with the previous generations. However, this 3rd generation includes more cores across the various families with Platinum supporting up to 40 cores, Gold up to 32 cores, and Silver processors delivering up to 20 cores. PCIe 4.0 is now supported with CPUs delivering 64 PCIe lanes each, for 128 PCIe 4.0 lanes in a dual processor configuration. Memory density has also increased with 8x memory channels, up from the previous count of only 6x memory channels on previous generations. Faster memory is also supported at up to 3200MT/s.
HPE ProLiant DL380 Gen10 Plus Server - Specifications
Processors
Up to 2 of the following depending on model.
The 2nd digit of the processor model number "x3xx" is used to denote the processor generation (i.e. 3=3rd generation Intel Scalable Series Processors)
Chassis Types
8SFF (SAS/SATA) with optional SFF Universal Media Bay (P14609-B21), 8SFF midtray, and/or up to 6SFF rear drive bay options.
24SFF bay (SAS/SATA) with optional 8SFF mid tray drives and/or up to 6SFF rear drive bay options to a total 38 SFF drives.
8LFF with Universal Media Bay (standard), supporting 2SFF front, optional 8SFF mid tray or 4LFF mid tray, and up to 4LFF rear or 6SFF rear drive bay options.
12LFF with optional 4LFF mid tray and up to 4LFF rear for a total 20LFF drives.
MEMORY
32 x DIMM slots
8.1 TB - RDIMM (4 TB per processor)
11.2 TB - LRDIMM and Intel Optane (5.6 TB per processor with 8x LRDIMM and 8x 512 GB Intel Optane)
Optional: Intel® Optane™ Persistent Memory for HPE
Capacity: 128GB - 512GB
DRIVE BAYS
8 or 12 x LFF SAS/SATA/SSD
8, 10, 16, 18 or 24 x SFF SAS/SATA/SSD
2 M.2 SATA SSD standard on primary riser
8 x SFF mid-tray
6 x SFF rear drive optional
4 x LFF mid tray optional
3 x LFF rear-drive optional
2 SFF or 2 Dual UFF rear-drive optional
20 x SFF NVMe optional
Maximum Internal Storage
| | | |
| --- | --- | --- |
| Drive | Capacity | Configuration |
| Hot Plug SFF SAS HDD | 397.8 TB | 24+2 x 15.3 TB* (with optional rear SFF drive cage) |
| Hot Plug SFF SATA HDD | 291.84 TB | 24+8+6 x 7.68 TB (with optional SFF drive cage) |
| Hot Plug LFF SAS HDD | 360 TB | 12+4+4 x 18 TB (with optional mid –tray and rear LFF primary riser drive cage, plus rear LFF tertiary riser drive cage) |
| Hot Plug LFF SATA HDD | 360 TB | 12+4+4 x 18 TB (with optional mid –tray and rear LFF primary riser drive cage, plus rear LFF tertiary riser drive cage) |
| Hot Plug SFF NVMe PCIe SSD | 385.92 TB | 24 x 15.36TB + 8 x 1.92TB<12W + 2 x 960GB<10W |
Power Supply
HPE 800W Flex Slot Platinum Hot Plug Low Halogen Power Supply Kit
HPE 1000W Flex Slot Titanium Hot Plug Power Supply
HPE 1600W Flex Slot Platinum Hot Plug Low Halogen Power Supply Kit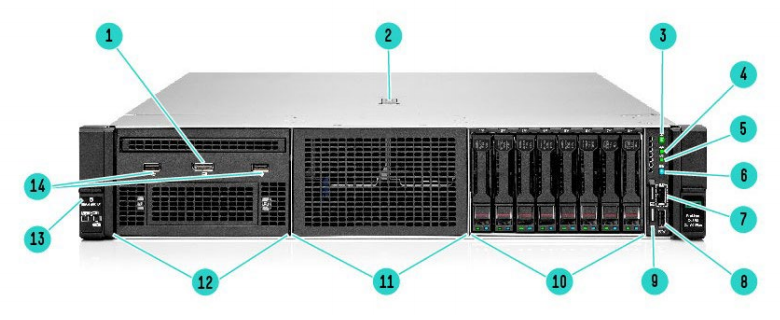 | | | |
| --- | --- | --- |
| 1. Optional front display port (Via Universal Media Bay) | 2. Quick removal access panel | 3. Power On/Standby button and system power LED |
| 4. Health LED | 5. NIC status LED | 6. UID button/LED |
| 7. iLO Service Port | 8. USB 3.0 | 9. Serial number label pull tab |
| 10. Box 3 - 8 SFF Drive Cage Bay | 11. Box 2 - Optional 8 SFF Drive Cage Bay | 12. Box 1 - Universal Media Bay (optional) |
| 13. Drive support label | 14. Optional USB 2.0 (via Universal Media Bay) | |