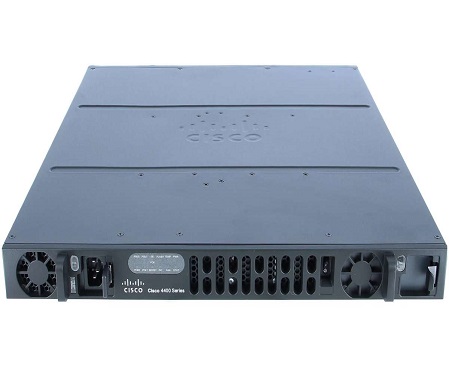 Cisco Gigabit network multi-service integrated enterprise router ISR4431-SEC/K9
Cisco ISR4431-SEC/K9 is the Cisco ISR4431/k9 router with Security Bundle. Its other specifications are the same as ISR4431/k9.
Feature
Cisco ISR4431/K9 is one of Cisco 4000 series routers which supports new modules and card slots such as NIM, ISC, etc. Additionally, the Cisco ISR4431/K9 can be upgraded with a license.
 The Cisco 4431 Integrated Services Router supporting 3 network interface module (NIM) slots can provide aggregate throughput from 500 Mbps to 1 Gbps. The router also supports two DDRMs, data plane and control/service plane, which allows administrators to easily manage the router.
Youtube
Parameter
| | |
| --- | --- |
| Type | Cisco ISR4431/K9 with Security Bundle |
| Aggregate Throughput | 500Mbps to 1Gbps |
| Total onboard WAN or LAN 10/100/1000 ports | 4 |
| RJ-45-based ports | 4 |
| SFP-based ports | 4 |
| Enhanced service-module slots | 0 |
| Doublewide service-module slots | 0 |
| NIM slots | 3 |
| OIR (all I/O modules) | Yes |
| Onboard ISC slot | 1 |
Default memory double-data-rate 3 (DDR3) error-correction-code (ECC) DRAM




(Combined control/services/data planes)

NA

Maximum memory DDR3 ECC DRAM (Combined Control/services/data planes)

NA

Default memory DDR3 ECC DRAM (data plane)

2 GB

Maximum memory DDR3 ECC DRAM (data plane)

2 GB

Default memory DDR3 ECC DRAM (control/services plane)

4 GB

Maximum memory DDR3 ECC DRAM (control/services plane)

16 GB

Default flash memory

8 GB

Maximum flash memory

32 GB

External USB 2.0 slots (type A)

2

USB console port -type B mini (up to 115.2 kbps)

1
| | |
| --- | --- |
| Serial console port - RJ45 (up to 115.2 kbps) | 1 |
| Serial auxiliary port - RJ45 (up to 115.2 kbps) | 1 |
| Power-supply options Internal | AC, DC, and PoE |
| Redundant power supply Internal | AC, DC, and PoE |
| AC input voltage | 100 to 240 VAC autoranging |
| AC input frequency | 47 to 63 Hz |
| AC input current range, AC power supply (maximum) | 3 to 1.3A |
| AC input surge current | 60 A peak and less than 5 Arms per half cycle |
| Typical power (no modules) (watts) | 65 |
| Maximum power with AC power supply (watts) | 250 (no PoE) |
| | |
| --- | --- |
| Maximum power with PoE power supply (platform only) (watts) | 500 with PoE redundant |
| Maximum endpoint PoE power available from PoE power supply (watts) | 250 W with optional redundancy |