What are the differences between the different colors of Western Digital HDD?
2023-09-18
Western Digital HDD comes with green, blue, black, red, purple and gold colors. Different colored disks have different rotation speeds and different uses.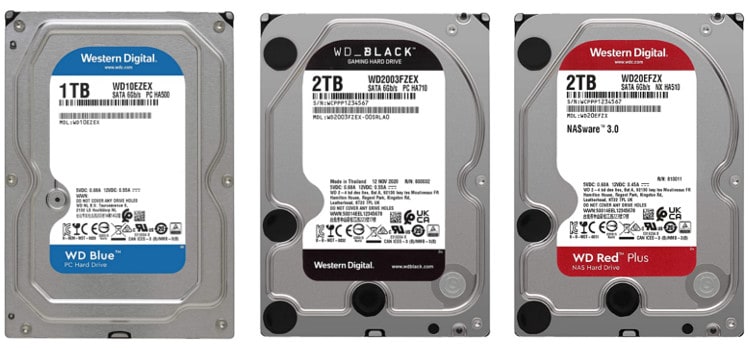 WD Green is an environmentally friendly hard drive. As the capacity of the hard disk increases, the power consumption also increases. It is suitable for home use as a download disk.
WD Blue have relatively balanced overall performance and longer service life. They are very suitable for desktops, laptops and all-in-one PCs with various dimensions and storage capacities.
WD Black is Western Digital's high-performance mechanical hard drive with excellent performance, large cache, and faster speed. It is mainly used in companies and enterprises, servers with high throughput, and high-performance computing applications, such as multimedia video, photo editing, and performance. Excellent gaming computer. The storage capacity ranges from 500GB to 6TB, the spindle bearing rotation speed is all 7200RPM, and the warranty period is five years.
WD Red are more suitable for running in NAS indoor environments and 24/7 indoor environments. Western Digital's newly released computer hard drive is specifically targeted at the NAS sales market. It is aimed at home or small and medium-sized enterprise NAS users with 1 to 5 computer hard disk slots.
WD Purple is specially prepared for monitoring systems. The storage capacity is relatively large, ranging from 1TB to 12TB. Among them, 10TB and 12TB have 7200RPM versions, and all others are 5400RPM, compatible with 24/7 hours. Work continuously.
WD Gold is our solution to enterprise and enterprise storage challenges. WD Gold drives are designed for small business data centers and are designed to meet the demands of 24/7 continuous data access, writing and transfer.