Reasons to Buy DELL Server T640
2023-08-02

Make no mistake - Dell EMC's PowerEdge T640 is a data center in a box. This tower of power powers every Xeon Scalable CPU in Intel's books, offers storage potential and versatility, defies belief, and backs it up with massive memory capacities. The T640's 5U width is put to good use, as it can fit four drive cages up front, which can support 32 SFF or 18 LFF drives. You can start with a single 16 SFF or 8 LFF drive backplane and add additional back planes as needed.
Appearance of the display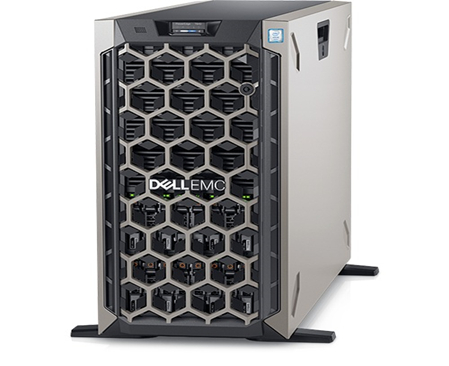 High-performance storage is on Dell's agenda, and the 16 SFF bay model works with eight PCI-e NVMe SSDs. They fit in dedicated cages in the front panel half, and their back planes are cabled to the PCI-e bridge cards installed in expansion slots 1 and 3. However, the drive itself will run you a premium.
RAID options start with the embedded PERC S140 chip, which supports SATA drives as well as striped, mirrored, and RAID5 arrays. Dell EMC offers a variety of RAID controllers, our system features a PERC H740P card which brings 12Gbps SAS3, includes 8GB NVRAM cache and built in battery backup.
Dell EMC's BOSS (Boot Optimized Storage Solution) card saves storage space because it eliminates the need to put the operating system on the hard drive.
The bootable PCI-e card has dual M.2 SATA SSD slots, supports mirroring, and costs around £477 for two 240GB drives.
The good design extends to the T640's spacious interior, with plenty of room for upgrades. The RAID card is hidden on the top of the motherboard, and above that there is a slot for dual SD card controllers, adding hypervisor redundancy via hardware mirroring.
The dual CPU socket sits comfortably in the center of the motherboard, and we priced our review system to get you started with a single 2.1GHz Xeon Silver 4110 CPU.
Our system has a 16GB base of DDR4 and 24 DIMM slots, which can be pushed to 1.5TB with dual CPUs, or 3TB if you specify a Gold or Platinum CPU designated by the "M".
The T640 is a cool client, and the entry system only requires two fan modules mounted on the rear of the motherboard shroud. Add dual CPUs, 18 LFF drives, or a PCI-e SSD, and you'll need the optional four fan module, which slides in behind the drive backplane.
Dual 10GBase-T ports come standard, and 8 PCI-e slots mean there's room for more network connections.
The T640 can also handle four GPU accelerator cards for virtual desktop infrastructure deployments, although these cards are only supported in the rack-mount version.
The T640 is a class management act because its iDRAC9 controller and flexible HTML5 web interface provide a wealth of operational data on all key hardware. Platform security is tight; firmware packages are cryptographically signed, and a system lockdown mode prevents users from making unauthorized configuration changes.
Summarize
We also liked the server's Quick Sync 2 feature - a push of a button via the System ID LED on the front panel activated Bluetooth, allowing us to connect our iPad directly to the server via the Open Manage Mobile (OMM) iOS app.
Using the OMM to scan the QR code on the system label, we were able to load the T640 in seconds and we could stand in front of it to view all server information, alerts and health status.
The PowerEdge T640 is a powerful and versatile tower server that puts data center capabilities in the hands of small and medium businesses. Expansion potential and management features are exemplary, and it doesn't take a hit for its excellent storage capabilities.