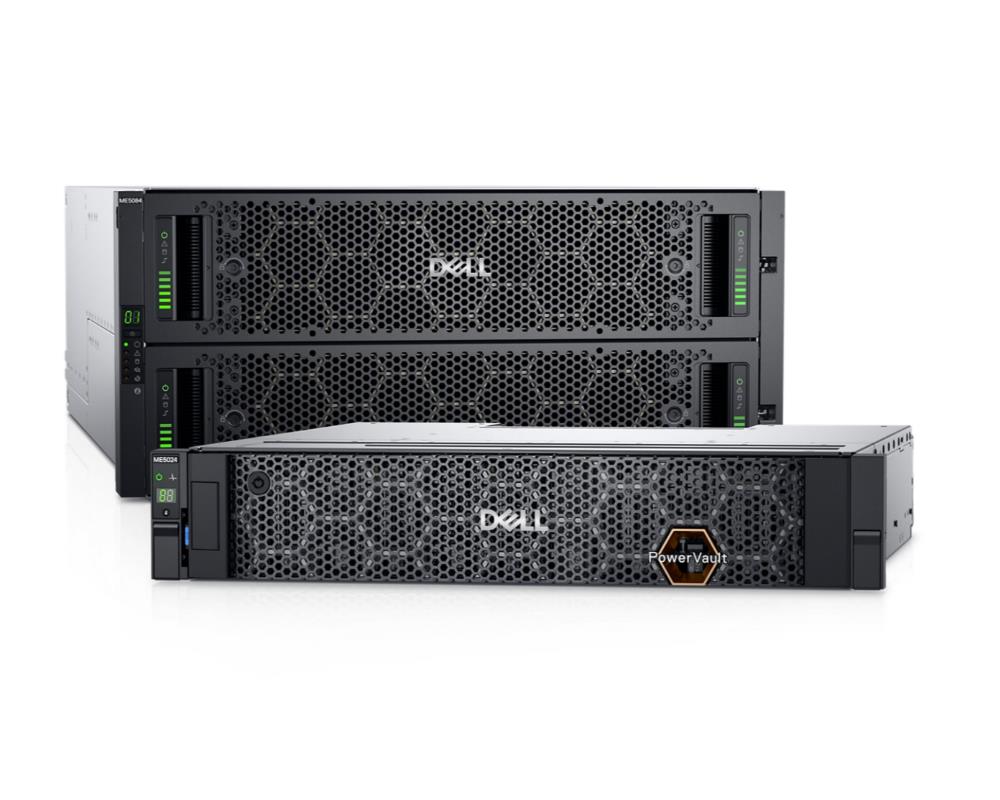 Power Vault ME5012 Storage Array
The affordable, simple, and fast Dell EMC PowerVault ME5012 SAN/DAS Storage Array is optimized to run a variety of mixed workload applications – physical and virtual – for small businesses.
Features
Greater Performance and Scalability for a Diverse Set of High-value Small to Medium-sized Business Workloads.
PowerVault ME5 is a block-level entry storage platform with a dual-active controller architecture — optimized for SAN and DAS — ideal for high-performance computing, databases, small-scale VDI, security workloads and much more.
All-inclusive Software Simplicity
PowerVault ME5 provides features that simplify tasks such as system installation, configuration, and serviceability enabling IT generalists to manage resources more efficiently and focus on the bigger picture.
Simplified Management
Easily configure, provision and manage PowerVault ME5 from anywhere, anytime with an intelligent, HTML5 web-based GUI. PowerVault Manager also helps alert you to identify problems and identify and resolve issues quicker.
CloudIQ Storage Analytics
CloudIQ is Dell's cloud-based AIOps application that uses telemetry, machine learning, and predictive analytics to provide PowerVault ME5 proactive health notifications, remediation advice, capacity projections, reclaimable storage identification, and more. CloudIQ is available with Dell ProSupport and ProSupport Plus services for Dell infrastructure systems at no additional cost.
Tech Specs
General Array Details:
HDD: 12 x 3.5" drive bays (2.5" drive carriers supported)
Memory: 16GB per controller (32GB total)
Controller: 2 hot-swappable per chassis (dual active), Single/dual controller support for 2U models
IO: FC, iSCSI (optical or BaseT), SAS
Power: Redundant 580W
Base:
PowerVault ME5012 Storage Array
Chassis Format:
All-in-one (single/dual controllers, internal drive bays, networking) with expansion options
Rack Size:
2U
Dimensions:
H: 8.79 cm (3.46 inches)
W: 48.30 cm (19.01 inches)
D: 61.87mm (24.36 inches)
Weight:
32.00 kg (71.00 lbs)
Empty: 4.80 kg (10.56 lbs) without drives
Controllers:
2 hot-swappable per chassis (dual active)
Single/dual controller support for 2U
Dual controller only support for 5U
Processor:
Intel® Xeon Processor
Internal Storage:
12 x 3.5" drive bays (2.5" drive carriers supported)
System Memory:
16GB per controller
Min/Max Drive Count:
2/264
Max Raw Capacity:
ME5012: 5.28PB (with 3xME484 expansion)
ME5012: 1.83PB (with 9xME424 expansion)
ME5012: 1.89PB (with 9xME424 expansion)
ME5012: 2.40PB (with 9xME412 expansion)
NAS Support:
Supported with NX Series Windows NAS appliance
Storage Media:
SAS and NL-SAS drives; different drive types, transfer rates, rotational speeds can be mixed in the same system:
NLSAS 7.2K 3.5": 4TB, 8TB, 12TB, 16TB, 16TB FIPS, 20TB
SAS 10K 2.5": 1.2TB, 2.4TB, 2.4TB FIPS
SSD: 960GB RI, 1.6TB MU, 1.92TB, 3.84TB, 3.84TB FIPS, 7.68TB RI
SDD and HDD: FIPS-certified SEDs
Host Interface:
FC, iSCSI (optical or BaseT), SAS
Max 32Gb FC Ports:
8 per array (support auto-negotiate to 16Gb)
Max 25Gb iSCSI Ports:
8 BaseT ports per array (only support auto negotiate to 1Gb)
Max 12Gb SAS Ports:
8 12Gb SAS ports
Max Multi-Protocol Ports:
4 ports 16Gb FC SFP+
4 ports 10Gb iSCSI SFP+
Max Management Ports:
2 per array (1Gb BASE-T)
Disk Expansion Protocol:
12Gb SAS
Disk Interface Expansion Ports:
2 12Gb SAS (wide-Port) per array (1 port per controller)
Up to 9 2U expansion enclosures per 2U base array
Up to 3 5U expansion enclosures per 2U base array
Up to 3 5U expansion enclosures per 5U base array
Array Configurations:
All-flash, hybrid flash, HDD only arrays
Storage Format:
Native block-level SAN or DAS
Auto-Tiering:
Up to 3 primary (media-based) tiers
RAID Support:
RAID 1, 5, 6, 10, or ADAPT RAID; any combination of RAID levels can exist in single array
ADAPT RAID:
Distributed erasure coding that reduces rebuild times when drive failures occur
Thin Provisioning:
Active by default on all volumes, operates at full performance across all features
Snapshots:
1024 maximum snapshots per array
Replication:
Asynchronous replication via FC or iSCSI – ME4 to ME5; ME5 to ME4; ME5 to ME5
Target/source relationships may be one-to-many or many-to-one
Volume Copy:
Copy complete standalone volumes
Business Continuity:
VMware Site Recovery Manager
Data-At-Rest Encryption:
Self-encrypting drives (SEDs) in SSD or HDD formats
Full Disk Encryption (FDE) based on AES-256
Drives certified to FIPS 140-2 Level 2
Key Manager:
Internal controller key management
Management Support:
PowerVault Manager HTML5 GUI elementmanager, CLI, OpenManage Enterprise 3.9
VMware vCenter:
Support VMware vCenter plugin to manage ME5 arrays through vCenter
Scripting:
CLI API
Redfish/Swordfish REST API
Supported Host OS:
Windows 2022, 2019 and 2016
RHEL 8.2 and 7.8
SLES 15.2 and 12.5
VMware 7.0 and 6.7
Citrix XenServer 8.x and 7.x
Virtualization Integration:
VMware vSphere (ESXi)
vCenter; SRM
Microsoft Hyper-V
Power/Wattage:
580W
Heat Dissipation:
1980 BTU
Voltage:
100-240 VAC
Frequency:
50/60 Hz
Amperage:7.6-3.0A (x2)
Operating Temperature:
5°C - 35°C (41°F - 95°F, derated by 1°C per 300mm above 900m)
Non-Operating Temperature:
-40°C to 70°C (-40 to 158°F) Maximum temperature changes in an hour: 20°C
Operating Humidity Ranges (Non-Condensing):
-12°C dew point minimum, 8% to 85% maximum, non-condensing
Non-Operating Humidity Ranges (Non-Condensing):
21°C dew pointmaximum, 5% to 100% maximum, non-condensing
Services:
Dell ProSupport Enterprise Suite and Dell ProDeploy Enterprise Suite. Optional ProSupport Plus is available offering pro-active and preventative services to improve performanceand stability.
System Sizing:
Dell Power Sizer