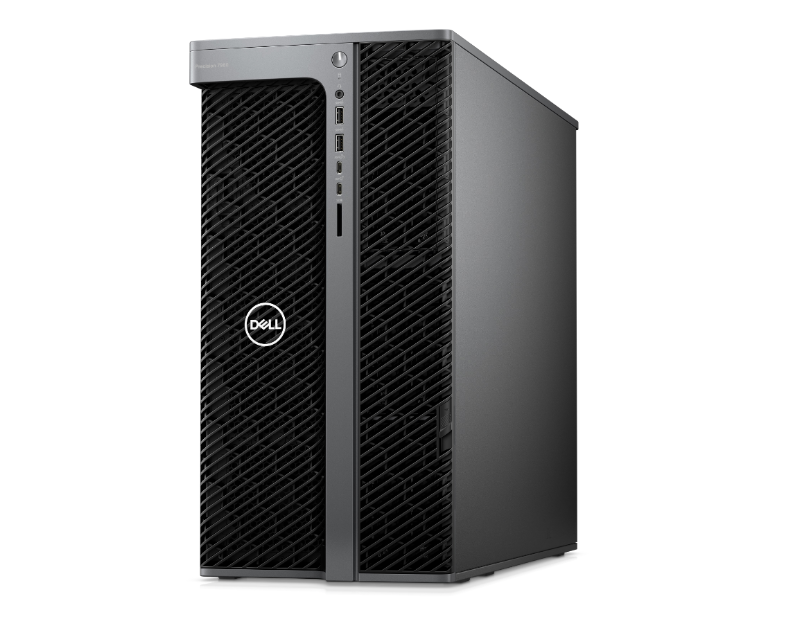 New Precision 7960 Tower Workstation t7960
Scale performance to meet your highest requirements, deliver projects with record speeds, while fitting more iterations within your project timelines.
Features
Powerful performance: Run demanding multithreaded engineering applications with up to an 350W Intel® Xeon® Processor.
Best-in-class graphics: Support advanced engineering and artificial intelligence GPU workloads with up to four 300W graphic cards. An extensive range of professional AMD and NVIDIA graphic options are available.
Elevate your purpose: Power your system with an up to 2200W PSU.
Precision 7960 Specification
Intel® Xeon® w9-3495X (105MB Cache, 56 cores, 112 threads, 1.9GHz to 4.8GHz Turbo 350W) 

Intel ® Xeon® w9-3475X (82.5MB Cache,36cores, 72 threads, 2.2GHz to 4.8GHz Turbo 300W) 

Intel ® Xeon® w7-3465X (75MB Cache, 28 cores, 56 threads, 2.5GHz to 4.8GHz Turbo300W)
Intel ® Xeon® w7-3455 (67.5MB Cache, 24 cores, 48 threads, 2.5GHz to 4.8GHz Turbo 270W) 

Intel ® Xeon® w7-3445 (52.5MB Cache,20cores, 40 threads, 2.6GHz to 4.8GHz Turbo 270W) 

Intel® Xeon® w5-3435X (45MB Cache,16 cores, 32 threads, 3.1GHz to 4.7GHzTurbo270W)
Intel ® Xeon® w5-3425 (30MB Cache, 12 cores, 24 threads, 3.2GHz to 4.6GHz Turbo 270W) 

Intel ® Xeon® w5-3433 (45MB Cache, 16cores,32 threads 2.0GHz to 4.2GHz Turbo 220W)
Intel ® Xeon® w5-3423 (30MB Cache,12 cores, 24 threads, 2.1GHz to 4.2GHz Turbo220W)

16GB, 1 x 16GB, DDR5, 4800MHz, ECC 32GB, 1 x 32GB, DDR5, 4800MHz, ECC
32GB, 2 x 16GB, DDR5, 4800MHz, ECC
64GB, 1 x 64GB, DDR5,4800MHz, ECC
64GB, 2 x 32GB, DDR5, 4800MHz, ECC
64GB, 4 x 16GB, DDR5, 4800MHz, ECC
96GB, 6 x 16GB, DDR5, 4800MHz, ECC
128GB, 1 x128GB, DDR5, 4800MHz, ECC
128GB, 2 x 64GB, DDR5, 4800MHz, ECC
128GB, 4 x 32GB, DDR5, 4800MHz, ECC
128GB, 8 x 16GB, DDR5, 4800MHz,ECC
192GB, 6 x 32GB, DDR5, 4800MHz, ECC
192GB, 12 x 16GB, DDR5, 4800MHz, ECC
256GB, 1 x 256GB, DDR5, 4800MHz, ECC
256GB, 2 x128GB, DDR5, 4800MHz, ECC
256GB, 4 x 64GB, DDR5, 4800MHz, ECC
256GB, 16 x 16GB, DDR5, 4800MHz, ECC
384GB, 6 x 64GB, DDR5, 4800MHz,ECC
384GB, 12 x 32GB, DDR5, 4800MHz, ECC
512GB, 2 x 256GB, DDR5, 4800MHz, ECC
512GB, 4 x 128GB, DDR5, 4800MHz, ECC
512GB, 8 x64GB, DDR5, 4800MHz, ECC
512GB, 16 x 32GB, DDR5, 4800MHz, ECC
768GB, 6 x 128GB, DDR5, 4800MHz, ECC
768GB, 12 x 64GB, DDR5,4800MHz, ECC
1 TB, 4 x 256GB, DDR5, 4800MHz, ECC
1 TB, 8 x 128GB, DDR5, 4800MHz, ECC
1 TB, 16 x 64GB, DDR5, 4800MHz, ECC
1.5 TB, 6x 256GB, DDR5, 4800MHz, ECC
1.5 TB, 12 x 128GB, DDR5, 4800MHz, ECC
2 TB, 8 x 256GB, DDR5, 4800MHz, ECC
2 TB, 16 x 128GB, DDR5,4800MHz, ECC
3 TB, 12 x 256GB, DDR5, 4800MHz, ECC
4 TB, 16 x 256GB, DDR5, 4800MHz, ECC
16 DIMM slots across 8 Memory Channels
Memory clocks down to 4400MHz in configurations with 2 DIMMs per channel 128GB and 256GB RDIMMs are available post launch

M.2 2280, 512GB, PCIe NVMe Gen4 x4, SSD, Class 40 

M.2 2280, 1TB, PCIe NVMe Gen4 x4, SSD, Class 40
M.2 2280, 2TB, PCIe NVMe Gen4x4, SSD, Class 40
M.2 2280, 4TB, PCIe NVMe Gen4 x4, SSD, Class 40
2.5-inch, 600GB, 15,000RPM, SAS, Enterprise HDD
2.5-inch, 1.2TB,10,000RPM, SAS, Enterprise HDD
2.5-inch, 2.4TB, 10,000RPM, SAS, Enterprise HDD
3.5-inch, 2TB, 7200RPM, SATA, Enterprise HDD
3.5-inch, 4TB, 7200RPM, SATA, Enterprise HDD
3.5-inch, 8TB, 7200RPM, SATA, Enterprise HDD
3.5-inch, 12TB, 7200RPM, SATA,Enterprise HDD
2.5-inch, 1.92TB, MU, SATA, Enterprise SSD
M.2 2280, 512GB, PCIe NVMe Gen4 x4, SSD, Class 40
M.2 2280, 1TB, PCIeNVMe Gen4 x4, SSD, Class 40
M.2 2280, 2TB, PCIe NVMe Gen4 x4, SSD, Class 40
M.2 2280, 4TB, PCIe NVMe Gen4 x4, SSD, Class 40