Dell Precision T5860 Tower Workstation Graphics Workstation
2023-08-08
The Dell Precision 5860 is a mid-tier Intel workstation, utilizing Intel Xeon W-class CPUs with up to 24 cores, 2TB RAM, and dual GPUs.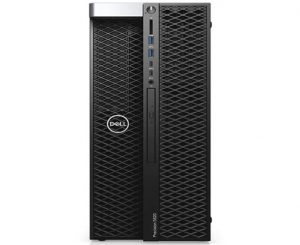 Technical specifications:
Processor :Intel Xeon W3-2423 (15 MB cache, 6 cores, 12 threads, up to 4.2 GHz Turbo, 120 W)
Operating System Options : Ubuntu® 22.04 LTS
Memory :16GB, 1x16GB, DDR5, 4800MHz, RDIMM ECC memory
Graphics:NVIDIA® T400, 4 GB GDDR6, 3 mDP to DP adapter
Hard Drive Options: 512 GB, M.2, PCIe NVMe, SSD, Class 40
Dimensions :1. Height: 433mm (17.05") | 2. Width: 218mm (8.58") | 3. Depth: 566mm (22.29")
Starting weight :14.4 kg ((31.70 lb)
Power Cord :System Power Cord (China)
Keyboard :Dell Wired Keyboard KB216 Black (Simplified Chinese)
Warranty :3 years ProSupport Plus: (7x24) 4-hour onsite service
Product Features:

Excellent performance
Up to 24 core, 225W Intel® Xeon® processors.

Professional Graphics
Up to (2) AMD or NVIDIA 300W graphics cards.

Excellent storage capacity
Up to 56 TB of storage, 2 motherboard slots for Gen 4 M.2 drives, 2 internally accessible SATA drives, and two FlexBay slots for Gen4 M.2 SSD drives or SATA drives.

Expandable memory
Up to 2 TB of 4800 MHz DDR5 4-channel memory.

Advanced Cooling Technology
Advanced heat dissipation technology is beneficial to reduce noise and heat dissipation of your system.

Excellent scalability
Features a front-access FlexBay for easy access and upgrades to storage.
Dell Optimizer for Precision
Intelligence built around you: Dell Optimizer is AI-based optimization software that learns and responds to the way you work to automatically customize and improve the performance of Precision and its entire ecosystem.
Get personalized performance with the smartest PC Smart and machine learning technologies can help you be more productive by auto-tuning performance characteristics not just for your PC, but for your entire ecosystem.
Smart Collaboration: Combining smart audio conferencing, connectivity and productivity features, this software gives you a great smart collaboration experience.
Secure and easy to manage: With Dell Optimizer, AI and machine learning collect and analyze data locally on the system—only event data and service heartbeats are sent to help Dell know that applications are healthy. Optimization and data collection follow a strict process to ensure your privacy is protected and your security is guaranteed—continuously improving your PC experience based on data. No personal data will be sent and used without your express consent.
Analytics: Generate end-user reports and analyze your systems for personalized insights.