Cisco C9300 Switch Selected Information
2023-08-20
With the development of today's Internet and information technology, network switches, as a key component of building enterprise network infrastructure, play a pivotal role. As one of the world's leading network equipment manufacturers, Cisco is undoubtedly the brand of choice for many enterprises. This article will introduce the features, advantages and applicable scenarios of Cisco C9300 switches.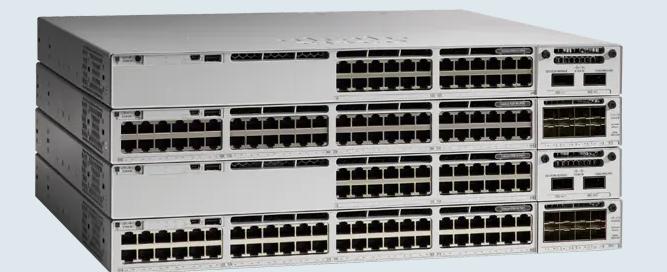 The Cisco C9300 switch is a high-performance, highly reliable enterprise-class switch product launched by Cisco. This series of switches is based on the Cisco UADP 2.0 chipset and adopts the new Cisco IOS XE operating system, which has reached a new level in network function and performance. It supports a variety of innovative technologies, such as embedded artificial intelligence, intelligent hosting, and network automation, providing enterprises with a more efficient network connection and management experience.

First of all, the Cisco C9300 switch has excellent performance and reliability, which can meet the needs of enterprises for high bandwidth and low latency. It supports multiple access rates, including 1G, 10G and 40G, and by using Cisco StackWise technology, multiple switches can be stacked to provide greater capacity and higher redundancy. In addition, the C9300 switch also has advanced traffic control and quality of service (QoS) functions to ensure the priority and stability of critical services.
Secondly, the Cisco C9300 switches have intelligent management and security protection functions. It supports network automation and intelligent hosting, can realize deployment and centralized management, and reduce the workload of manual operation and management. At the same time, the Cisco C9300 switch also integrates advanced security features, such as identity authentication, data encryption, etc., to protect enterprise networks from threats of malicious attacks and data leakage.

Finally, Cisco C9300 switches are suitable for various enterprise scenarios. Whether it is a small and medium-sized enterprise, a large enterprise, or a data center, the C9300 switch can meet its network needs. It has flexible port configuration and scalability, and can be customized according to the needs of enterprises to meet network topologies of different sizes and complexities. In addition, C9300 switches also support multiple operating modes and protocols, such as static routing and dynamic routing, providing more choices and flexibility.

To sum up, the Cisco C9300 switch has become the first choice for enterprise network construction by virtue of its excellent performance, intelligent management, and security protection. If an enterprise needs to purchase or upgrade network equipment, consider choosing Cisco C9300 switches to improve network stability and reliability. At the same time, choose a professional supplier for cooperation, you will be able to obtain better product and service guarantee.