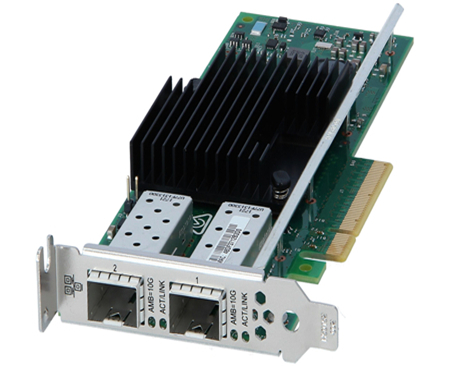 727055 B21 HPE Ethernet 10Gb 2 Ports 640SFP 28 Adapter
727055 B21 is a type of HP Ethernet adapter. It has a built-in Intel® X710 controller that provides 20 Gb/s data rate per port. The bus type of PCI Express 3.0 8 GT/s x8 matches most interfaces.
Features
Designed for HPE ProLiant servers, low power consumption and low cost.
Provides virtualization and scalability capabilities to complement the HPE server platform to meet the demands of next-generation data centers.
It can be connected with DAC and SR fiber optic modules for a wider range of use.
Faster processing with the latest generation Intel® X710 controller.
Parameters
Brand

HPE

Product Model

727055 B21

Description  

HPE Ethernet 10Gb 2-port 562SFP+ Adapter

Network Processor  

Intel® X710 Controller

Data Rate

Two ports, each at 20 Gb/s bi-directional

 40 Gb/s aggregate bi-directional theoretical bandwidth

Onboard Memory

256 MB

Bus type   

PCI Express 3.0 at 8 GT/s x8

Form Factor  

Standard and low profile adapter compliant with the PCIe standard

IEEE Compliance  

802.3, 802.1ab, 802.3x, 802.3ad, 802.3p, 802.1q, 802.3ae, 802.1au,

802.3ap, 802.1as, 802.3ak,802.1qaz, 802.1Qbb

Power

10W typical, 10.8W maximum

Temperature - Operating

0° to 55°C (32° to 131°F)

Humidity - Operating  

5% to 95% non-condensing

Emissions Classification

Class B

RoHS Compliance

5 of 6

Warranty

1 year