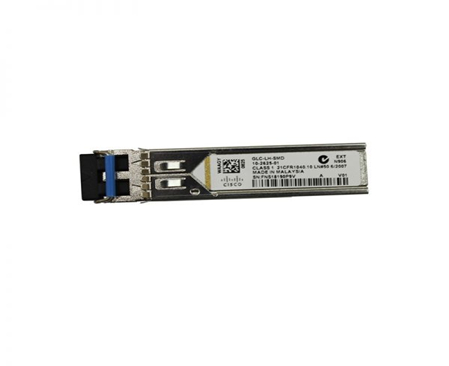 Cisco GLC LH SMD SFP Module Transceiver
Cisco GLC LH SMD is a gigabit port single-mode fiber optic module developed by Cisco. Based on the SFP interface and the wavelength of 1270-1355nm, it can be used for network equipment construction of small enterprises.
Features
Gigabit single-mode fiber can be used for 10 kilometers of data transmission.
SFP interface with hot-swap function, longer service life.
Compatible with IEEE 802.3z 1000BASE-LX protocol.
Parameters
Product

Wavelength (nm)

Fiber Type

Core Size (μm)

Modal Bandwidth (MHz* Km)

Operating Distance (m)

1000BASE-SX

850

MMF

62.5

160 (FDDI-grade)

220 (722 ft)

62.5

200 (OM1)

275 (902 ft)

50

400 (400/400)

500 (1,640 ft)

50

500 (OM2)

550 (1,804 ft)

50

2000 (OM3)

1000 (3281 ft)

1000BASE-LX/LH

1310

MMF

62.5

500

550 (1,804 ft)

50

400

550 (1,804 ft)

50

500

550 (1,804 ft)

SMF

-

-

10,000 (32,821 ft)

1000BASE-EX

1310

SMF

-

-

40,000 (131,234 ft)

1000BASE-ZX (GLC-ZX-SMD)

1550

SMF

-

-

Approximately 70 km depending on link loss

1000BASE-BX-U

1310

SMF

-

-

10,000 (32,821 ft)

1000BASE-BX-D

1490

SMF

-

-

10,000 (32,821 ft)