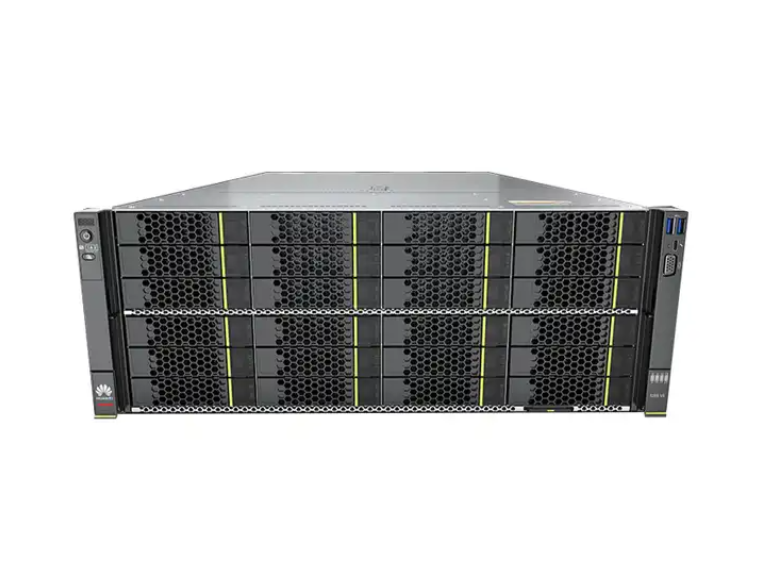 HUAWEI FusionServer 5288V6 Rack Server
Huawei FusionServer 5288 V6 is a 4U 2-socket rack server that meets service requirements such as hot, warm, and cold data tiered deployment and historical data archiving.
Features
With the efficient design, Huawei FusionServer 5288 V6 ensures excellent computing performanceand provides flexible and ultra-large local storage expansion capabilities, reducing data storage costs.
The 5288 V6 can be configured with two Intel Xeon scalable processor, 32 DDR4 DIMMs, and 44 3.5-inch + 4 NVMe SSDs in a 4 U space. Integrates patented technologies such as DEMT intelligent power management and FDM intelligent fault management, and can be configured with FusionDirector full-lifecycle management software, effectively reducing OPEX and improving ROI.
5288V6 Server Specifications
Server Type
4U rack server
Processors
One or two 3rd Gen Intel® Xeon® Scalable Ice Lake processors (8300/6300/5300/4300 series), TDP up to 270 W
Chipset
Intel C621A
Memory
32 DDR4 DIMMss, up to 3,200 MT/s; 16 Optane™ PMem 200 series, up to 3,200 MT/s.
Local Storage
Supports various drive configurations and hot swappable:
• 36-44 3.5-inch SAS/SATA drives + 4 NVMe SSDs
• 24 x 3.5-inch front SAS/SATA drives
• 4 x 3.5-inch embedded SAS/SATA drives
• 16 x 3.5-inch SAS/SATA drives + 4 x 2.5-inch rear SAS/SATA/NVMe SSDs
Supports flash storage:
• Dual M.2 SSDs
RAID Support
Supports RAID 0, 1, 5, 50, 6, or 60, optional supercapacitor for cache data power failure protection, RAID level migration, drive
roaming, self-diagnosis, and remote web-based configuration.
PCIe Expansion
Provides a maximum of eleven PCIe 4.0 slots, including one PCIe slot dedicated for RAID card, two FlexIO card slots dedicated for
OCP 3.0, and eight PCIe 4.0 slots for standard PCIe cards.
Fan Modules
Four hot-swappable fan modules in N+1 redundancy mode
Power Supply
Two hot-swappable PSUs in 1+1 redundancy mode. Supported options include:
• 900 W AC Platinum/Titanium PSUs (input: 100 V to 240 V AC, or 192 V to 288 V DC)
• 1500 W AC Platinum PSUs
1000 W (input: 100 V to 127 V AC)
1500 W (input: 200 V to 240 V AC, or 192 V to 288 V DC)
• 2000 W AC Platinum PSUs
1800 W (input: 200 V to 220 V AC, or 192 V to 200 V DC)
2000 W (input: 220 V to 240 V AC, or 200 V to 288 V DC)
Operating Systems
Microsoft Windows Server, SUSE Linux Enterprise Server, VMware ESXi, Red Hat Enterprise Linux, CentOS, Oracle, Ubuntu, Debian,
etc.
Security Features
Power-on password, administrator password, TPM 2.0, security panel, secure boot, and cover opening detection.
Operating Temperature
5°C to 45°C (41°F to 113°F) (ASHRAE Classes A1 to A3 compliant)
Certifications
CE, UL, CCC, FCC, VCCI, RoHS, etc
Installation Kit
L-shaped guide rails, adjustable guide rails, and holding rails.
Dimensions (H x W x D)
175 mm x 447 mm x 790 mm (6.89 in. x 17.60 in. x 31.10in.)